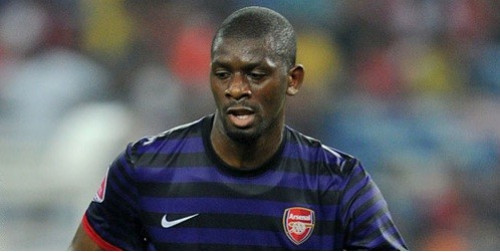 Arsene Wenger feels Abou Diaby's absence for forthcoming matches will provide other Arsenal midfielders an opportunity to prove their worth.
The France international was substituted early on in the Gunners' 1-2 defeat to Chelsea at the weekend, due to a thigh injury, and has now been ruled out for at least three weeks. And though Wenger admits this is a blow for the team, he also thinks the situation will offer some game time for the club's other central midfielders.
"Not only because we lost a good player but because he has qualities that the other players haven't got. We have better balance size-wise and [in terms of] strength [when Diaby is playing] because he has power," the Arsenal Web site quoted Wenger as saying.
"It is as an opportunity for somebody else to stand up and play. [Mikel] Arteta can play higher and deeper as well. So we can put a deeper midfielder in like [Francis] Coquelin and then Arteta can move forward. We also have [Aaron] Ramsey, [Alex Oxlade] Chamberlain and [Jack] Wilshere, it depends on if you want to be more offensive. We have plenty of players who are in between higher up and lower down in midfield," the manager pointed out.
Wenger has also criticised the French Football Federation for picking and fielding Diaby for the World Cup qualifiers against Finland and Belarus in September. The 26 year old, who has a history of injury problems, was sidelined for close to a year and made just five appearances in all competitions for Arsenal last season.
"I think it was a mistake to play him with the French national team. I said many times that if France wanted Diaby for their game [World Cup qualifier on October 16] in Spain, they should not take him for Finland and Russia. They could have taken him but not played him, because the guy has been out for a year, played [just] four or five games. It is really frustrating, because once you think you get there [in getting Diaby fit], it happens again," the Daily Mirror quoted Wenger.