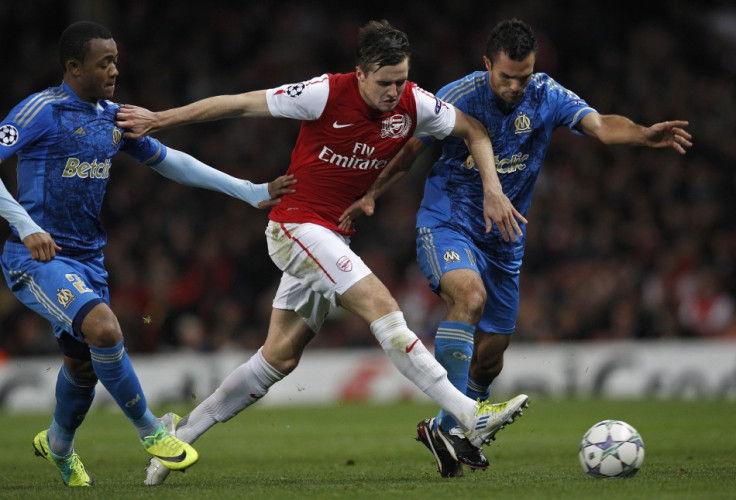 Arsenal wing-back Carl Jenkinson has revealed that manager Arsene Wenger has asked him to cross the ball into the box more this season.
The Gunners are known for their possession-based approach to the game but after the club's seven-year trophy doubt, several pundits and fans have criticised them for not having a plan B when their passing approach fails to yield results.
"We like to keep the ball moving and create goals in different ways but crossing is a strength that I like to use when I can. The manager knows crossing is one of my strengths and he has asked me to get as many balls into the box as I can. But, at the same time, he has told me not to cross for the sake of it. It is an asset of my game and one I like to use. The more minutes I play, the more comfortable I am to push on," the Daily Star quoted Jenkinson as saying.
The 20-year-old will have a host of new players to aim for, when he crosses the ball into the box this season, after Germany's Lukas Podolski and France's 6ft 4in striker Olivier Giroud - known for his aerial abilities - were added to the squad this summer.
"This season will be huge. We feel it as much as the fans and we desperately want to win a trophy and be successful. That is something we are going to work on as a team this season and we will deliver for the fans, hopefully," the Finland U-21 international pointed out.
Jenkinson is likely to start at right-back for Arsenal in their league opener against Sunderland at the Emirates Stadium on 18 August as Bacary Sagna is still recovering from an injury he suffered at the end of last season.
Meanwhile, Malaga midfielder Enzo Maresca has confirmed that the Spanish club have sold midfielder Santiago Cazorla to Arsenal and forward Salomon Rondon to Rubin Kazan.
Cazorla is already understood to have passed a medical at the north London club, with only the official announcement left. And Maresca has now also disclosed that both Cazorla and Rondon have indeed been sold but warned La Liga side that the same should not happen to manager Manuel Pellegrini.
"[Pellegrini] is fundamental for us, just as Cazorla and Rondon were fundamental and who have had to be sold," Yahoo quoted the Italian as saying.