Arsenal forward Theo Walcott has revealed he would surrender his personal achievements for the chance to win a trophy with the club. The 24-year-old England international is a key member of Arsene Wenger's side and is aware the north London club have not won a title for eight years now.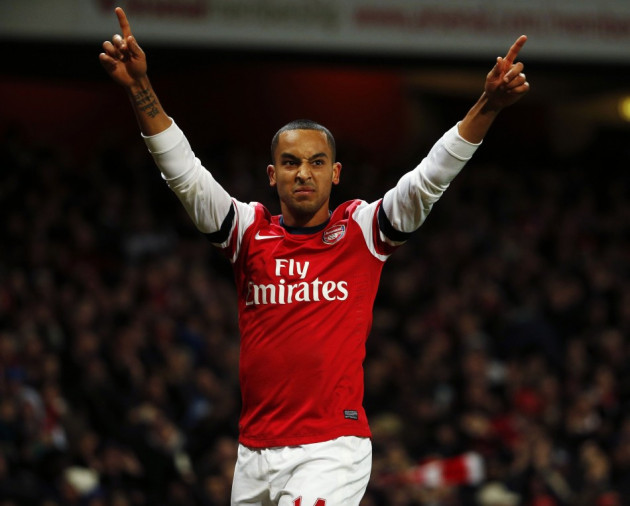 The Southampton academy graduate signed a new contract with the side in January, ending speculation of a move away from the Emirates. And after repeatedly asking to be played up front, as a striker, Walcott's return of 18 goals in 36 appearances in all competitions has served to lead the Gunners to fifth place in the Premier League, only two points behind Chelsea in the race for fourth and Champions League football next season.
And with over 250 games for the club under his belt, Walcott says he is determined on leading his club to a trophy.
"I would personally take all of my appearances away to win something at this club. Some people may think I'm mad but I think I'm not selfish. I like to think for the club and the fans. Appearances are great but winning things means more. Hopefully when I reach 300 appearances, there will be a trophy at the end of that," he explained.
"I'm very proud of that [250 appearances]. I've worked hard through all the lows and the highs. This season especially, there have been a lot of highs," the England star continued.
Walcott is presently injured with a groin problem but is expected to be available when Arsenal visit the Hawthorns to face West Bromwich Albion.
"I don't want to stop there. I want to continue to play and get back fit soon. It's a fantastic achievement and I'm very happy," he concluded.
Arsenal face a three-way fight with Spurs and Chelsea for the two remaining Champions League positions; assuming Manchester City retain second place, of course. Manchester United have already claimed one position, as champions-elect of the Premier League.