Olivier Giroud has revealed that he was approached by German giants Bayern Munich last summer but made it clear he has no regrets about making the move to Arsenal.
The 26-year-old was the top scorer in France last season as he helped Montpellier clinch the Ligue 1 title and it soon became clear that there would be a host of top European clubs chasing his signature.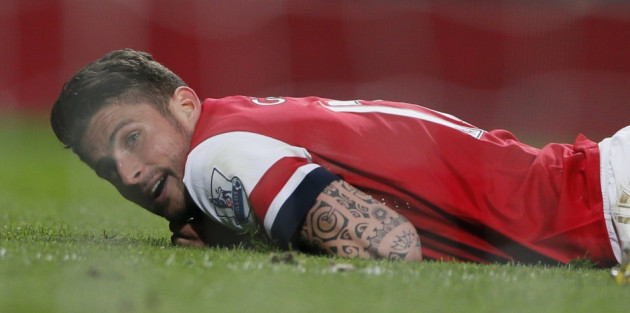 Arsenal eventually secured his services after agreeing a fee of £13million, but it seems they could have missed out had Mario Mandzukic not enjoyed such a successful Euro 2012.
The Champions League finalists eventually signed the Croatian striker instead of Giroud who admits that he is happy that he made the move to north London.
"My agent spoke to them and it was approved by people at Bayern," Giroud told the Mirror. "But they wanted to wait for the Euros and Mandzukic had a great Euros. To be pursued by Bayern, it is good. PSG? They are clearly very attractive but I am happy where I am."
Giroud has scored 17 goals in his debut season with Arsenal and has largely been heralded as a success. The French international even feels as though he has enjoyed a finer start to life in the Premier League than Didier Drogba or Thierry Henry.
"I replaced Van Persie and when you arrive at a big club like that, they are very demanding towards you. The criticism has not always been deserved, but they push you on," explained Giroud.
"Seventeen goals and 11 assists - that is better than Henry and Drogba in their first seasons. This is the quality I have. I have got better with this team and this staff - it is another level. And I want to continue to improve."
Arsenal are still in with a chance of gaining a top four finish but there has been plenty of speculation about the future of manager Arsene Wenger who has once again failed to deliver any silverware.
The French boss has been linked with a possible move to Paris Saint-Germain in the summer but Giroud is confident that his compatriot will still be at the Emirates next season.
"We are going to finish the season and then take stock," added Giroud. "If we qualify for the Champions League, I don't see why he should leave. He built the club and made it grow. Arsenal is where it is because of him.
"He still has a year left and he wants to finish things. He will make his decision in good time. This is not the time to talk about him leaving."