Arsenal manager Arsene Wenger has revealed that Olivier Giroud is concerned with his form after scoring just one goal in his seven appearances this season.
The France international arrived at the Emirates in the summer having been the top scorer in Ligue 1 with 21 league goals in his 36 appearances.
Having played a crucial role in helping Montpellier win the league title, Giroud arrived at Arsenal with plenty of expectation on his shoulders and he has so afar struggled to deliver.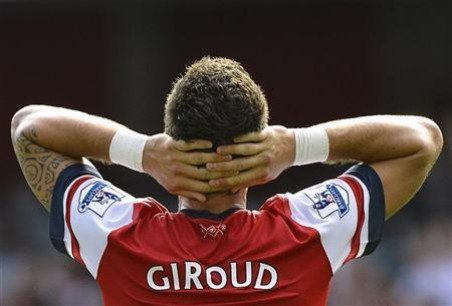 He is yet to score a Premier League goal and Wenger has admitted that it is concerning the 26-year-old.
"He is upset," Wenger told the Daily Telegraph. "I told him not to worry but you say what you want. A striker who doesn't score, doesn't really listen to you. They run it through in their minds over and over again.
"He is still in what I consider an adaptation period because it is a different team, a different way of playing and different football. He will adapt."
While Giroud has struggled to set the league alight with his performances, fellow new signings Luka Podolski and Santi Cazorla have both excelled.
Spanish playmaker Cazorla has particularly impressed and Wenger has spoken of his delight at how the former Malaga midfielder has settled into life in England.
"We are all over the moon with Santi Cazorla. We are happy with him. He is not only an exceptional football player, but as well an exceptional person who is every day happy to play, to practice and has a very good team attitude. We are very, very happy with him," Wenger told the Arsenal website.
"The problem for Santi Cazorla is that if he was Finnish of course he would play [for the national team]! If he was English as well, but Spain at the moment is gifted with so many good midfielders that it is very difficult to get into the team. Even there, I think he plays in some games and I hope in the future he will play more."