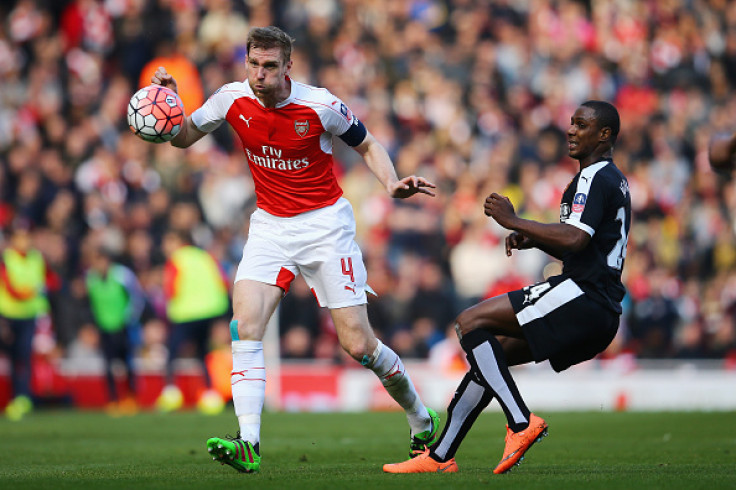 Arsenal defender Per Mertesacker wants fans to back the players until the end of the season as it would help them conclude the season on a high and end their title drought. Fans have been at loggerheads with the club over the past month, with a majority wanting the manager to move out after the end of the season citing a series of bad results.
The Gunners are currently third on the table, eight points behind leaders Leicester City, who have played an additional game. Arsenal have to win all their games at hand to have any chance of closing the gap, provided the clubs above them drop points.
They are out of all cup competitions including the FA Cup where they lost to Watford at the Emirates stadium leading to mass unrest among fans and the media. Their travails in Europe also ended after Barcelona defeated them 3-1 at the Nou Camp with Luis Suarez, Neymar and Lionel Mesi scoring a goal each to secure a comfortable victory. Mertesacker was particularly appreciative of the fans' display before the Barcelona tie at the Emirates and wants a similar atmosphere until the end of the season.
"It helps us to get going when we warm up," Mertesacker told Arsenal's official website. "We want to see how the fans are doing as well. It's not only us, you need to feel that everyone is in the stands ready for the game.
"They already want to prepare themselves as well to keep the tension or raise it in the stadium. That was a good feeling when we warmed up in front of the mosaic [against Barcelona] and it was a good idea," he said.
"We want to treat every opponent the same, which means to give them the same respect, so every single game will be a tough challenge. Let's keep the tension for a proper fight, a proper challenge and that is to respect every opponent, no matter where they stand or their position in the league table. I think it's the same for the fans," the defender added.