Queens Park Rangers goalkeeper Julio Cesar has claimed that he met with Arsenal officials before deciding to move to west London.
The Brazil international decided to leave Italian giants Inter Milan in the summer and it came as somewhat of a surprise when he decided to make the move to Loftus Road.
The 33-year-old has enjoyed plenty of success throughout his career, winning five Serie A titles and the Champions League during his seven year spell at Inter.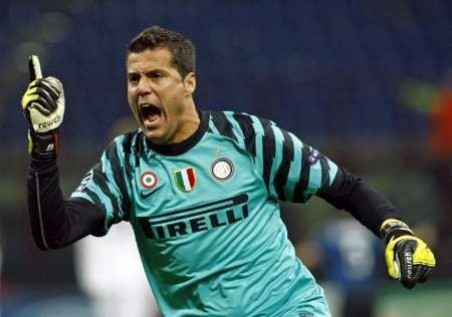 It was expected that he would join another top European side, but was instead convinced by QPR boss Mark Hughes to join the struggling London club.
However, it appears as though Cesar could well have been competing in the Champions League had he not decided to turn down a move to Arsenal.
"I accepted this proposal because I wanted to live in London," Cesar told the Sunday People. "I have an amazing way of life here and I'm giving my family a great opportunity to grow up culturally.
"I talked with Arsenal in the last transfer window, and they were really happy about me playing for them, but at the last minute I moved to QPR.
"QPR has a project, and I dream about that project coming true. But I came here because I was thinking about my future once I quit football, that's true."
Cesar has been in impressive form since joining the club but he has been unable to stop the side enduring one of the worst starts in Premier League history as they have now gone 11 games without a win.
Despite this poor run it seems Cesar has no regrets about turning down Arsenal and he still believes that QPR can get out of trouble, whilst also admitting that he would love to take a more senior role at the club.
"The directors have signed 11 footballers, and when you put them all into a team, it will be difficult for that team to work immediately," added Cesar.
"That's why QPR haven't won yet. We don't have an identity yet. But let me tell you we are on the right track.
"The fact that I can speak Portuguese, Italian and now English will give me opportunities in the future to be a director once I quit football. Even at QPR I could work as a director."