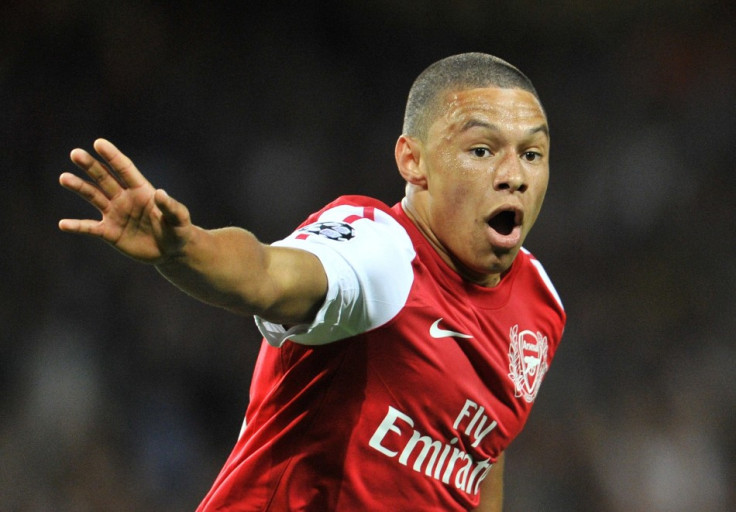 Arsenal sensation Alex Oxlade-Chamberlain has laughed off the seemingly plentiful comparisons with his Emirates teammate Theo Walcott, by suggesting their contrary relationship statuses is one of the many differences between the precocious young English duo.
The 18-year-old has made a blistering start to life at Arsenal this season following his £12 million move from Southampton in August, and such is the youngster's obvious pedigree he has been tenuously likened to his Emirates teammate Theo Walcott.
The Arsenal pair were both nurtured at Saints' famed youth academy before making their respective high-profile moves to the Emirates and their similar playing styles and blistering pace have led to inevitable comparisons.
While happy to acknowledge the similarity, Oxlade-Chamberlain jokily suggests he and his Arsenal teammate differ on a number of levels, most notably that Walcott has a long-term girlfriend, Melanie Slade, which immediately makes the 18-year-old "more fun".
"He's (Theo Walcott) more of a striker or a winger whereas I'm more a midfielder." The Arsenal winger told Match of the Day magazine, which is on sale now, when asked about the inevitable comparisons with his Emirates teammate.
"I can come inside and I like to pass.
"And he's got a girlfriend and I haven't. So that must make me more fun." Oxlade-Chamberlain joked.
Although eager to distance himself from some of the comparisons with his 22-year-old teammate, Oxlade-Chamberlain admits the winger was extremely welcoming when he first arrived at Arsenal.
When asked about the first player to welcome the former Southampton prodigy into the Arsenal dressing room, Oxlade-Chamberlain told Match of the Day magazine: "I think it was Theo. I sit next to him in the dressing room and he thinks he runs it.
"But he's good to sit next to, he's helped me a lot."
Such is the seamless transition made by Oxlade-Chamberlain in the fleeting appearances afforded to him by Arsene Wenger, the Arsenal youngster has been tipped to make Fabio Capello's European Championship squad for next summer's tournament in Poland and the Ukraine.
While hugely honoured by the speculation, the 18-year-old suggests he is merely concentrating on his Arsenal form.
"It's flattering to know people are putting my name out there but I've still got a lot of hard work to do here to prove myself and with the Under 21s - that's all I can say about that."
Oxlade-Chamberlain is in line to start Arsenal's Champions League game against Olympiakos on Tuesday night following Arsene Wenger's decision to rest a number of his key players.
The Christmas issue of Match of the Day Magazine is on sale now, priced at £4.99.