Santi Cazorla has reserved special praise for Jack Wilshere and Mikel Arteta, with the Spaniard insisting that both stars have had a big hand in helping him settle into life in England.
Cazorla made an explosive start for the Gunners after making the move to the Emirates in the summer, and though he has recently been in the spotlight less than at the beginning, his seven goals over the season have kept the side in the race for a top four finish.
Arsenal suffered from their worst start to the season in Wenger's reign, but their recent run has seen them win their last three matches and push to within three points of qualifying for the Champions League.
And Cazorla believes that Jack Wilshere has been a standout addition to the squad as the midfielder made a comeback from injury and returned to the side.
"He has amazing potential," he told Arsenal Player. "I did not know him well when I arrived because he was not at the training sessions due to his injury, and everyone was already talking about him, saying that when he returned, the team would improve, and that has been the case.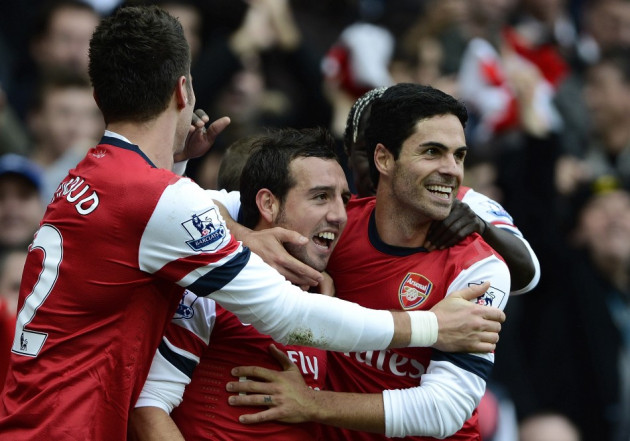 "Every day he is gaining more confidence, he is forgetting about the injury, and he is a key player that can influence the result in a game, and thus, we are all very happy to see him 100 per cent again.
"He was out for a long time and it was an injury that takes time to heal. It is always hard to come back from injury, especially if it is very long.
"You always have that fear up until you start getting your confidence back, and you start getting back to your old self, and he has done that quickly."
Meanwhile, Cazorla's close relationship with fellow Spaniard Mikel Arteta has been long documented, and the 28 year old said that his teammate has been particularly inspirational as he made the switch from Spanish football to the Premier League.
There is a reason he is the vice-captain of the team: he is a reference player in the dressing room," he explained. "He has helped me a lot.
"He knew I was a new signing, that it would be a positive experience for me but that I would also need time. He has had a calming effect on me.
"He has shown his confidence in me, and it is clear that Mikel has been key in my adaptation because he has always helped me."