Arsenal Star Hails 'Unbelievable' Robin van Persie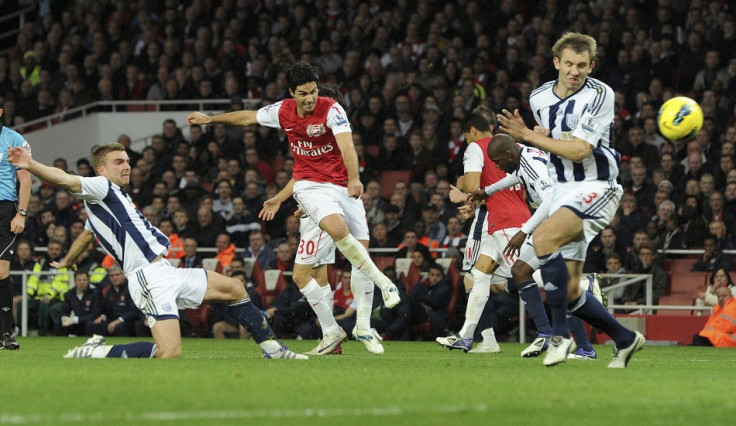 Mikel Arteta has hailed "on fire" Arsenal captain Robin van Persie as one of the world's best strikers after his brace fired the Gunners into the knock-out stage of the Champions League.
Van Persie scored twice in the second half as Arsenal beat German champions Borussia Dortmund 2-1 at the Emirates on Wednesday - a result which secured top spot in Group F.
The Arsenal striker has been in irrepressible form throughout 2011 and last night's double took his total in the calendar year to 31 in 34 games, a run that includes 17 goals this season.
Van Persie's Arsenal team-mate Arteta was quick to praise the striker's contribution to the team, saying he has to be considered alongside Barcelona's Lionel Messi and Real Madrid forward Cristiano Ronaldo as one of the best strikers around.
"We all know how good he is. Robin keeps performing and scoring goals, making the difference," said Arteta. "At the moment he is level with any striker in the world, his numbers are unbelievable in the past eight or nine months.
"For me, it is just a natural talent. Sometimes he looks as if he does not try, but beats players and scores and unbelievable goal.
"Robin is on fire, he is making the difference. Hopefully he can continue to do that and people can talk about him all the time, because that means we are winning."
Last night's victory guaranteed Arsenal's place as one of the top seeds in the draw for the last-16 and Arteta is thankful they are unlikely to face Spanish heavyweights Real Madrid or Barcelona in the next round.
"We did not want to go to Greece having to win over there and we did the business against a really tough side. It takes a lot of pressure off and there are advantages to being top of the group, which gives you a better chance of going further.
"Every team in the Champions League are tough, but if there are ones you want to avoid then it is Real Madrid and Barcelona."
© Copyright IBTimes 2023. All rights reserved.