Mesut Ozil Representative Denies Reports that Arsenal Star 'Donated $600,000 Brazil World Cup Winnings to Gaza'
Arsenal Record Signing Donated to Brazilian Causes Instead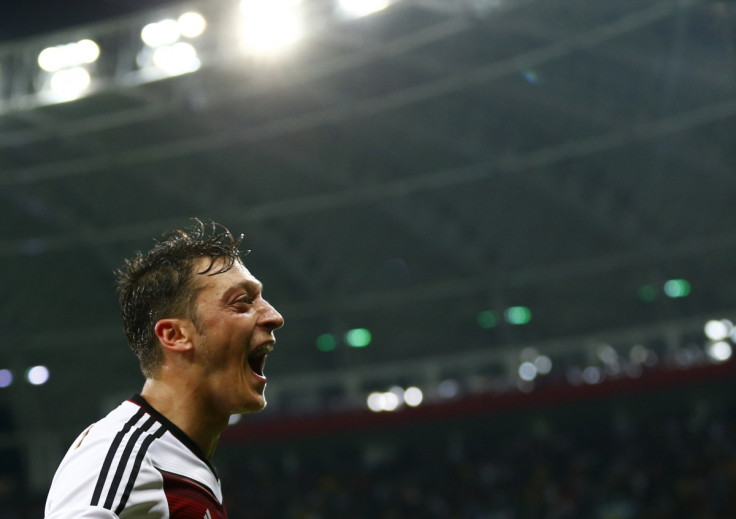 Germany and Arsenal superstar Mesut Ozil's representative has denied claims that the star was set to donate his £350,000 [$600,000] World Cup winnings to the children of Gaza following his country's triumph in the global spectacle.
"The claim that Mesut donated money to Gaza is not true," said the midfielder's represenative Roland Eitel.
"Maybe in the future, who knows? He donated money to causes in Brazil and he is now on holiday."
On his Facebook page, Ozil announced that he had paid for 23 Brazilian children's surgeries due to Germany's extra-time win over Argentina.
"Prior to the #WorldCup I supported the surgery of eleven sick children [in Brazil]. Since the victory of the #WorldCup is not only due to eleven players but to our whole team, I will now raise the number to 23," he wrote.
As the conflict in the Middle East rages following a failed ceasefire, it was earlier claimed that Ozil was ready to give the £237,000 bonus he received for helping Germany win the final, and the £118,000 he received for Germany's semi-final win, to the occupied territory.
Ozil, however, did not confirm the donation himself and the reports of his Gaza generosity have now been disputed.
The Arsenal star is of Turkish descent and a practising Muslim who recites the Quran before games. He controversially opted not to fast during the tournament, which fell in the holy month of Ramadan in which Muslims fast from dawn until sunset.
Despite the Gaza donation reports proving false, Ozil reportedly caused controversy when he previously declined to shake a Fifa official's hand because of his support for Israel.
Arsenal's club-record signing (£42.5 million) has quickly settled to life in England, winning the FA Cup with the Gunners before playing an integral role in Germany's march to victory in Brazil.
A nine-day outbreak of conflict between Israel and militant group Hamas has seen over 1,000 rockets fired into Israel and over 1,300 airstrikes on the Gaza Strip.
Palestinian officials have said that 207 Palestinians have been killed in Israel's Operation Protective Edge while one Israeli has died in southern Israel after being hit by a mortar.
The Gaza Strip is a narrow territory occupied by Israel currently under a land, sea and air blockade. According to the United Nations and aid agencies, humanitarian conditions have continued to deteriorate rapidly because of the blockade.
Other Muslim representatives at the World Cup have reportedly sent their prize money to the occupied coastal enclave.
After reaching the second round of the tournament, Algeria donated their £5.25m prize money to the people of Gaza.
Algeria striker Islam Slimani announced that the entire squad would donate the money to the territory because "they need it more than us", according to a report in the Daily Mail.
© Copyright IBTimes 2023. All rights reserved.