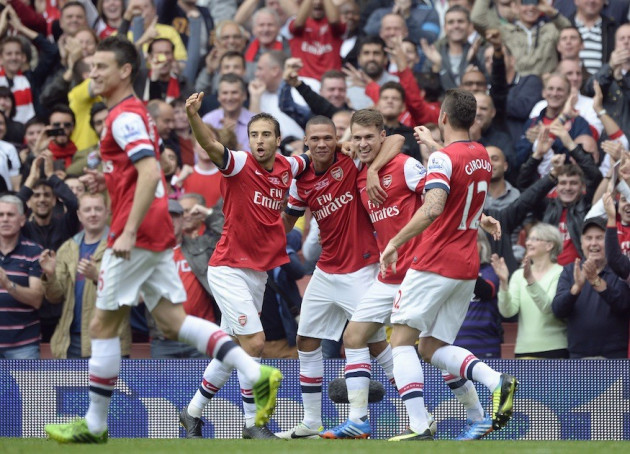 Arsenal took a commanding 3-1 win over Stoke at the Emirates on Sunday afternoon, sealing their fourth league win in a row thanks to three successful set pieces.
The Gunners began the first half in stunning fashion with Aaron Ramsey scoring his seventh goal this season for the side after five minutes. Mesut Ozil's free kick was blocked by Potters keeper Asmir Begovic, but not quite enough to clear the ball completely and Ramsey took his chance.
The Gunners were feeling in control of the game after going 1-0 up but it only lasted 20 minutes with Stoke's Geoff Cameron scoring not long after. The American's goal hit the back of the net after Cameron found Marko Arnautovic's missed shot and fired past Wojciech Szczesny.
Per Mertesacker failed to mark the man who scored his first goal for Stoke but the defender would repent for his mistake in the 36th minute by scoring from a corner. The Germany international headed the ball into the far corner but was helped along by Laurent Koscielny who distracted Begovic with his own attempt at the ball.
The second half saw Stoke take more control of the ball than they had in the first and Arsenal looked to be on the back foot on a few occasions, with Jack Wilshere looking concerned as he came off the pitch after his foot was caught by Steven Nzonzi. But the midfielder came back on and looked ready to go shortly afterwards and within minutes Arsenal were able to post another goal thanks to Baracy Sanga.
It would be their third goal from a set-piece, with Sagna heading the ball straight past Begovic. Mesut Ozil's hand in all three goals for Arsenal couldn't be discounted either with the midfielder once again proving that he was a good summer buy for the club.
What began as a disastrous Premier League campaign with fans jeering Arsene Wenger and the club looking to make no signings in the summer has now turned into one of their best starts to the season in recent years and the side are now top of the table.
Stats
Out of the last 12 games these teams have played, Arsenal have won all (12).
In scoring against Stoke, Aaron Ramsey has collected his biggest haul of goals in a single season - 7 in 8 matches.
While Arsenal controlled the possession in the first hour of the game Stoke worked hard to outplay the side across the park as the game continued. By the end of the match it was 50% a piece.
Arsenal's goal attempts and attempts on target doubled Stoke's, with the Gunners shooting 17 times to their 10 and 8 times in the right direction to their 3.
Key Quotes
Arsene Wenger (to the official Arsenal website): "When you play against Stoke you don't expect to score three goals from set-pieces and that is basically the biggest surprise to me today. It shows as well how important the delivery is. He [Ozil] is a player, when you look at his numbers, the assists are not a coincidence, it's just the reality of his game. I believe that once he is completely integrated we'll see even more of him but he has shown today that he is a great player.
On Jack Wilshere: "Jack played now five games. Normally I should have rested him today but he did fight very hard and he was a bit exhausted in the end and that's why I decided to take him off. Certainly I will not play Jack on Wednesday, we have to rotate the squad because we play again on Saturday and after that we have a massive home game in the Champions League. On Wednesday I will of course rotate the team."
On Arsenal's win: "We were in a position where we could take advantage of our home game and we did it. We had two [different] halves, the first one was fluent, we did well going forward. In the second half we looked jaded physically and lost our game a bit.
"In the end we lost our technical quality but we have shown again another aspect as well, that we can dig deep and fight when we are a bit under pressure. In the end, when the third goal went in, we just kept the result. It's been a positive, very good week for us because we won in Marseille, we won in Sunderland, we won today. Overall it was a very positive week."