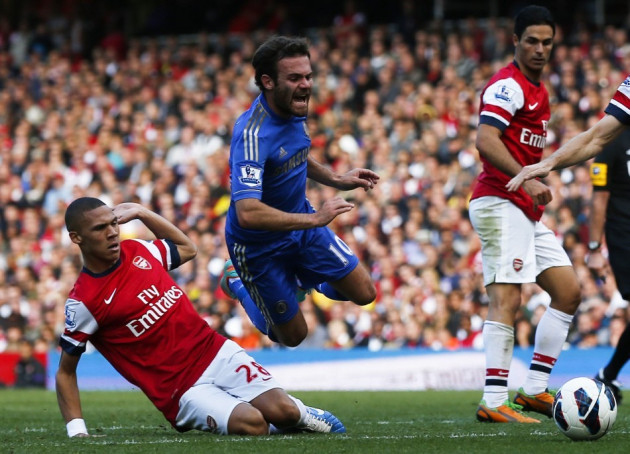 Kieran Gibbs has hailed Arsenal's new summer signing Mesut Ozil and revealed that the German international has a calm head on his shoulders.
The £42.5m man from Real Madrid was the best player on the pitch against Stoke, racking up two assists and also playing a part in the first goal which resulted from his eventual free-kick. The first goal was brought about by a surging run by Jack Wilshere who was hacked down by Charlie Adam at the edge of the penalty box. Ozil tried to beat the goalkeeper by rounding the wall but Asmir Begovic spilled the ball at the feet of Aaron Ramsey who finished with aplomb. The goal takes his tally to seven from eight games this season, which is his highest ever return in a campaign.
Stoke City equalised after Marko Arnautovic hit the post and the rebound was gracefully slotted in by Geoff Cameron. However, the Gunners, with their new found spirit came back with a goal from per Mertesacker and followed that up with a header from Bacary Sagna to kill the game off and go top of the table. Ozil is already leading the assists chart with three having played only two games thus far and the Gunners will be hoping that with the injured players set to return they can turn this campaign around to emulate a title challenge.
"He's really enjoying himself. He looks very determined and happy and he's a humble boy as well. Coming from a club like Real Madrid you would expect a player to come with a bigger head on their shoulders but he's very down to earth and he's passionate. It's positive for us and a signing like Ozil is going to push our squad forward because you don't want to let him down. You want to perform for him and he will take us to the next level," Gibbs told www.arsenal.com.
"I think the team is just gelling. We've had a strong finish to last season and people could see the players really gel. I think that's happening this season at an earlier stage. I'm very excited about the quality of the squad and when we get more players back from injury I feel like we'll be a force. We need to keep focused and build on our run. I'm sure we can be contenders," he added on the squad.