Arsenal defender Thomas Vermaelen has followed Wojciech Szczesny's aim to finish as high as possible in the table this season, with the star admitting that Arsenal fans want nothing more than to see the Gunners finish above their rivals come May.
Finishing third won't just mean guaranteeing Champions League participation for Arsenal, with the Gunners also hoping to show bitter rivals Tottenham that they are still the number one side in north London.
And Vermaelen, who has gone from strength to strength since returning from injury and has been an integral part of Arsenal's back four, believes that knocking Spurs off their perch this season is giving the side extra motivation in their push to finish on a high.
"That is very important for the club and is our main target at the moment," he explained, as the Daily Express reports.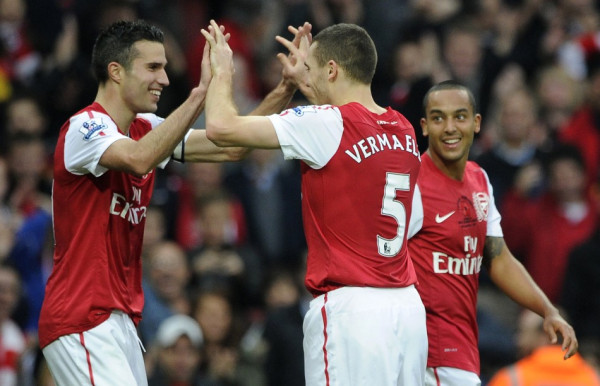 "I have only been here for three years, but I know there is a big rivalry between Tottenham and Arsenal. We are in a big fight for third place.
"I hear it every day on the streets. The fans ask us to finish above Tottenham at the end of the season. But we can only look at ourselves and just play.
"If we win every game, we will finish on top of Tottenham, so that is what we will try to do."
Arsenal face Wolves away on Wednesday night, then Wigan and Chelsea at home in the following weeks. The side will be particularly hoping to defeat the Blues, who are also pushing for a Champions League spot.
Szczesny also believes that Arsenal will finish at least third this season, but the keeper revealed over the weekend that he believes the side could even catch City as they look to show their critics that the Gunners are capable of winning trophies.
Roberto Mancini's squad have imploded in the title race over the last month, winning only one of their last five matches as Manchester United pull eight points clear of their cross-town rivals at the top of the Premier League table.
And while catching City appeared to be impossible for any club at the start of the year, Arsenal are now within 10 points of the big spenders, and Szczesny believes that anything could happen with six games left in the season.
"I believe we will finish third," he said, as reported by Sky Sports.
"Man City have lost their chance of the title - it was a big blow to us last year and they might drop a little bit, so who knows maybe we can catch them as well.
"Our aim is to win every game and if we do that we will be in the Champions League next season."