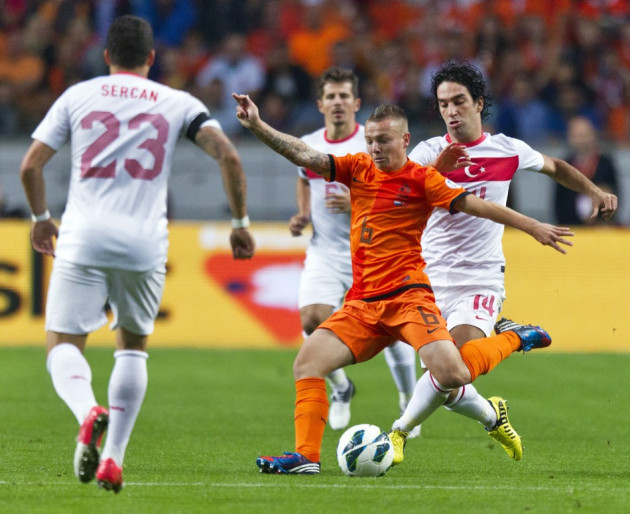 Tottenham are not only competing with Arsenal for a place in the Champions League next season but it seems they will also go head-to-head for the signature of Dutch midfielder Jordy Clasie.
The Metro has reported that the two London clubs are both keen to lure Clasie away from Feyenoord in the summer after a string of impressive performances that have helped the club remain in the hunt for the league title.
Clasie, whose playing style earned him the nickname the 'Dutch Xavi', has been a regular in the Feyenoord side in the last two seasons after enjoying a breakthrough campaign while on a season-long loan at Excelsior.
The 21-year-old may be small in stature, but his commanding performances on the pitch caught the eye of Holland manager Bert van Marwijck who named him on the stand-by list for Euro 2012.
He has since made three appearances for Holland and has become one of the most talked about central midfielders in the Eredevisie.
Arsenal are said to be interested in signing the midfielder in the summer with the Metro reporting that manager Arsene Wenger is a big admirer and would ideally like to partner Clasie with Jack Wilshere.
However, it appears as though they will have a battle on their hands as Tottenham are hoping that they beat Arsenal to a Champions League spot and will therefore be a bigger draw for the young midfielder.
While the trend in the Premier League had been to buy big powerful midfielder in the mould of Yaya Toure, the performances of Leon Brittain at Swansea, Juan Mata at Chelsea and Santi Cazorla at Arsenal have shown that there is a place for smaller, less physical players.
Clasie admits that he cannot match up physically to some midfielders, but believes his ability can help him become a world class player, just like Barcelona stars Xavi and Andreas Iniesta.
"I am only 1-metre-69 [5ft 6"], so I have little chance when it comes down to sheer physical strength. However, players such as Xavi, Andres Iniesta and [Wesley] Sneijder prove week after week that you are never too small to become world-class," Clasie said last year.
Clasie is under contract until the summer of 2015 and Feyenoord will hope that they can convince the midfielder to remain at the club beyond this season even if the likes of Tottenham and Arsenal submit their interest.
See why Clasie has been dubbed the new Xavi in the video below.