Former Arsenal striker Eduardo has confessed to the BBC that he believes the club have made a mistake in selling more of their top players, with the Schalke star claiming that a player of his own capabilities would be a good acquisition for the squad.
The Gunners have had to let go of two more key players this summer, with Robin van Persie and Alex Song departing for what they claim are greener pastures after spending years developing into stars at the Emirates.
And though Arsenal are remaining positive about how their season will pan out, Eduardo believes that they are going nowhere with their current transfer tactics.
"It is a big mistake to sell them - they were the most important players last season," he said. "But they have other quality players to stay as a big club at the top.
"Every player comes to Arsenal as a simple player and Arsenal make them into a big player.
"But they can't keep everyone together to fight for titles. Every year it's similar - they lose players, buy players, make them class players and the next year they sell again. They are always in the same place."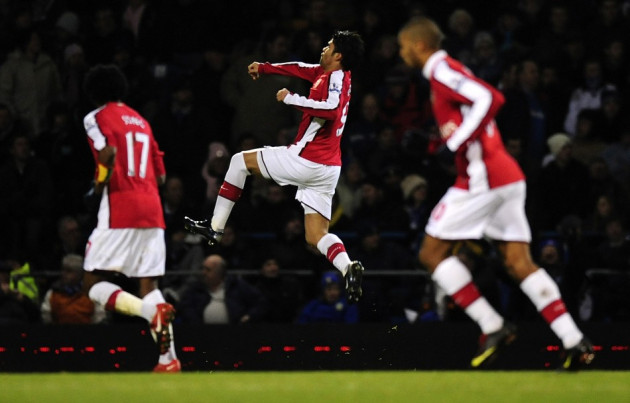 While Eduardo slammed Wenger's transfer policy at Arsenal, he insisted that the players and fans must trust the Frenchman in his decisions, with Lukas Podolski, Olivier Giroud and Santi Cazorla providing a new framework for the squad going forward.
"When the season finishes, we'll see if it was a mistake or not [selling van Persie and Song]," he explained. "It's very sad to lose two big players like that but we must respect the new players and believe they can keep Arsenal at the top."
Eduardo also offered his services, after leaving the club in 2010, should Wenger decide to bring the 29 year old winger back to north London.
He revealed: "It would be nice if they wanted me to join again, but it's not the kind of thing I'm thinking about.
"If I played for Arsenal now I could score some important goals from nothing - in games like Sunderland, when it's 0-0 and you score the only goal. My studying of the game is like that.
"I can give you a lot of important points. I think Arsenal are missing some players like that. You never know.
"When you've played in the Premier League, you sometimes miss the atmosphere in the stadiums and the playing style. I miss this and hope one day I will come back."