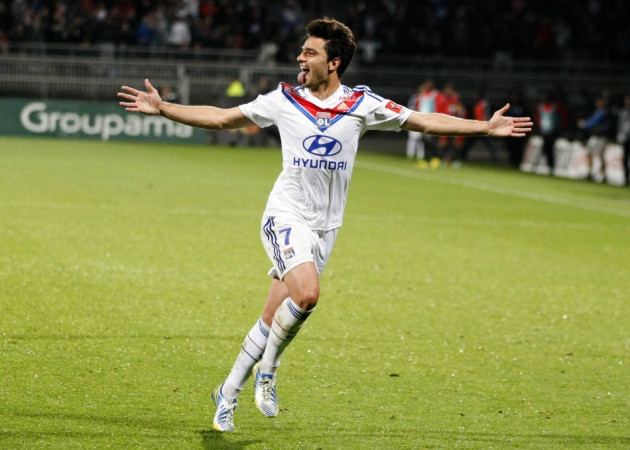 Clement Grenier has hinted he might not stay at Lyon next season, with the confirmed Arsenal target insisting he is concentrating on international duty as rumours surround his future.
Arsene Wenger admitted he admired Grenier at the start of the month, comparing him to Samir Nasri for his attacking talents.
The 22 year old has become an integral member of the Lyon line-up, and while Wenger revealed Arsenal are interested in signing the France international, Grenier says he is still unsure where he will play next season.
"I'm training here in Uruguay and Brazil," he said, according to the Express. "It feels good to be far from France right now because I've heard a lot of things about me lately.
"I can't give answers to everybody. I want to enjoy these 10 days of training. We will see about my future after the internationals, during my vacation."
Grenier's father insisted this week that he would likely be at Lyon over the 2013-14 campaign, with the 2014 World Cup to think about as he looks to build on his first senior cap for France.
A possible move to Arsenal will likely come down to whether Wenger can promise Grenier game time, as players start to consider how they can best showcase their skills in the lead up selection for Brazil.
The Gunners are well known for dipping into the French market, with last summer's signing Olivier Giroud having an impressive first season in English football.
Wenger is believed to have been handed a larger transfer budget than in previous seasons, with some publications claiming the manager has as much as £70m to spend this summer. And Grenier would only take a small percentage of that, with the playmaker valued at around £8m.
Working on the attacking line-up will be a must if the Gunners hope to compete with the Manchester clubs and Chelsea next season; while Giroud and fellow 2012 summer signing Lukas Podolski made up for Robin van Persie's absence from the side, none of Arsenal's goalscorers came close to pushing for the golden boot this season, with Theo Walcott coming the closest with 21 goals in all competitions.