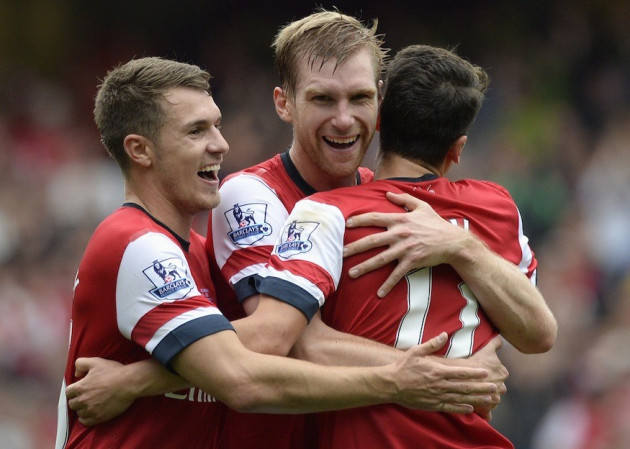 Former Liverpool defender Jamie Carragher believes that the record signing of Mesut Ozil is masking over Arsenal's lack of depth.
The Gunners currently sit at the top of the Premier League table having gone on a four-game unbeaten run after losing their first match with Aston Villa.
Their 3-1 win over Stoke at the weekend was yet another chance for supporters to feel positive about the season ahead.
Ozil has had a huge impact on the squad since coming to the Emirates on deadline day and against Stoke the midfielder had a hand in all three goals. But Carragher believes that Arsenal are masking their problems with the star's performances and in the coming weeks they will have their resolve truely tested.
He told Sky Sports: "I think they might fall short in regards to their depth of squad. If we talk about Arsene Wenger was getting a lot of criticism in the transfer window, but the Mesut Ozil signing seems to have put that to bed, because everyone is so happy with him arriving.
"But that might hide numbers in other areas where they're weak like you saw with Theo Walcott being missing today. They still got the three points but over a long season you might think they'll come short."
While Carragher admits that Arsenal are in the best position possible right now in the table he insisted that only when the Gunners can cut it with their title rivals will they be able to consider themselves serious contenders for the Premier League.
"They're playing very well at the moment, they're top of the league and that's exactly where you want to be," he explained.
"The Aston Villa result seems a long time ago now and they've come on leaps and bounds since then. But there are a lot of big games to come and they will need to prove themselves in them.
"Once they start mixing it with the big teams and beating them away from home - that's when I think we'll see if Arsenal have a real chance of winning the title."
Arsenal face West Bromwich Albion in the League Cup this week, followed by Swansea City away in the league at the weekend. Their match-up with Napoli the following week in the Champions League will no doubt be a tough one with Rafa Benitez's side currently holding an 100% record.