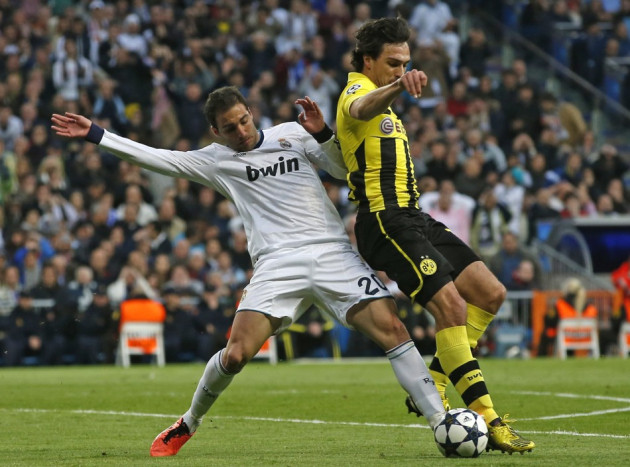 Juventus are hoping to beat Arsenal to Real Madrid forward Gonzalo Higuain but are still to match the striker's valuation, according to Spanish publication Marca.
The Italian outfit are on the lookout for a big name to bolster their attacking line up, but once again they could be undone by their inability to offer big money.
The Old Lady attempted to get Robin van Persie last summer, and Arsenal would have preferred to sell their star abroad than to rivals Manchester United, but Juventus were unable to offer anywhere near Sir Alex Ferguson's £24m offer for the striker.
As a result, the side ended up landing Nicklas Bendtner on a loan spell which was both disappointing and fraught with injury.
A striker will be high on their list again this summer, but Marca claims that their offer of €22m for Higuain was promptly turned down by Madrid, who have publicly insisted that any club hoping to take the Argentina international would have to pay his full €30m exit clause to do so.
Higuain appears to favour a move to Arsenal, saying on Wednesday that he was open to heading to the Emirates, but if Juventus are willing to improve their offer, it could provide a more realistic option should Arsene Wenger not activate the hitman's release clause.
Wenger was reportedly handed a £70m transfer budget for this summer, with the board hoping that the side can start challenging for trophies once more.
But over the past 16 years at Arsenal, the Frenchman has never bid more than £15m on a player, when he made the record offer for Andrey Arshavin in 2009.
Bidding €30m on a player would smash that record, and while it would show some ambition from Arsenal, Wenger has always been an advocate of building a team slowly and cheaply rather than trying to buy in immediate talent.