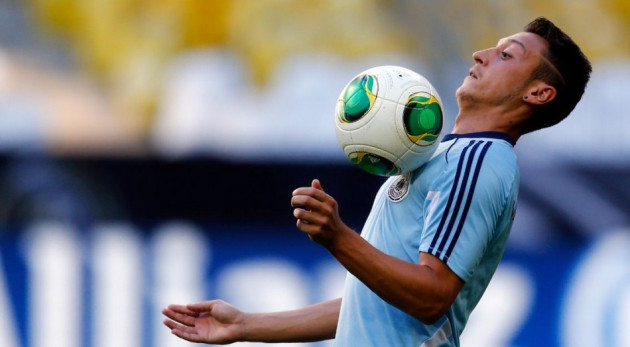 Arsenal's Mesut Ozil has penned the need for further investment in the squad if they have to regularly gun for trophies.
The £42.5m midfielder from Real Madrid has had a rousing effect on the Arsenal squad, who are currently top of the league with 25 points, two points ahead of Liverpool. The Gunners failed to go 11 points ahead of Manchester United as they lost 1-0 to the Red Devils at Old Trafford owing to a header from Robin van Persie. However, it has been a scintillating start by the north London club and the German international will only get better when he acclimatizes himself to the Premier League.
The 25-year-old understands the importance of investment, something which Wenger has to dwell on, come January. The Gunners need a striker to help Olivier Giroud and Ozil, who is here to win trophies, revealed that he was promised that there will be further investment in the squad.
"There will be further ­investment in the team in the future. It was important for me to know that the club matched my ambitions and they clearly do. More importantly we have to take things one step at a time, If we do that anything can happen, anything is possible. I'm sure we can continue to improve each year and bring in new players too. It's important we don't stand still but continue to evolve. Great teams don't suffer from complacency they always want to improve," Ozil said.
Ozil adds that Arsenal are among the most unique clubs in the world and that there is no ego among the players in the team. The sense of unity in the squad is what puts them apart and will take them to greater things in the future.
"I've never ­experienced a club like this before. Everyone is equal at this club from the cleaning lady to the chairman. Everyone is important, but nobody thinks they're better than anyone else. Everyone treats each other with politeness and respect," he added.