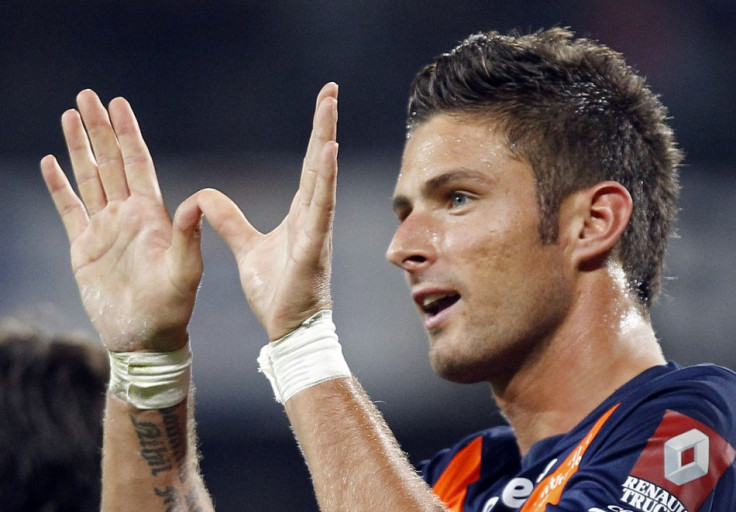 France and Montpellier striker Olivier Giroud is close to moving to Arsenal, according to the French club's manager Rene Girard.
Giroud scored 25 league goals last season to help his club win the Ligue 1 title. Gunners boss Arsene Wenger is understood to be an admirer of the 25-year-old and now wants to add the French hitman to his attacking line-up.
Girard revealed that Arsenal are leading the chase for Giroud, with the player also is interested in a move to the Premier League and if a fee is agreed between the two clubs, the move will go through.
"Arsenal are very interested and Giroud wants to play in England, if Arsene agrees with the president [Louis Nicollin], he will sign for them," Sky Sports quoted the Montpellier boss as saying.
Giroud has been linked to a host of clubs and the striker had confirmed that he will consider his future after the Euros. The player is thought to command a fee in the region of £13mn, reports the Telegraph. If he moves to Arsenal, he will join Germany forward Lukas Podolski as the new arrival at the Emirates Stadium.
Meanwhile, Feyernoord legend Willem van Hanegem has criticised Arsenal captain and Holland striker Robin van Persie for making a phone call after his side's 0-1 loss to Denmark.
The 28-year-old was seen using his phone on the pitch immediately after the Dutch's shock loss to the Danes in a game that he had squandered several scoring chances.
"What kind of impression does this make? You just lost a very important match where you missed a few very good chances and then the people see you calling on the side of the pitch! I don't get why he was calling there. It's something you shouldn't do and I have never seen this in my life," Goal.com quoted the former Holland international as saying
Despite criticising the Dutch striker's actions, van Hanegem feels that van Persie should start in the country's next match against Germany.
"You have to [start him], because if you don't you can send him home and you can't use him anymore. Besides that, you can give him the feeling that the loss against Denmark is all his fault. [Holland boss Bert] van Marwijk would make it a lot easier on himself if he started with one defensive midfielder and [Klass-Jan] Huntelaar and van Persie up front," van Hanegem added.