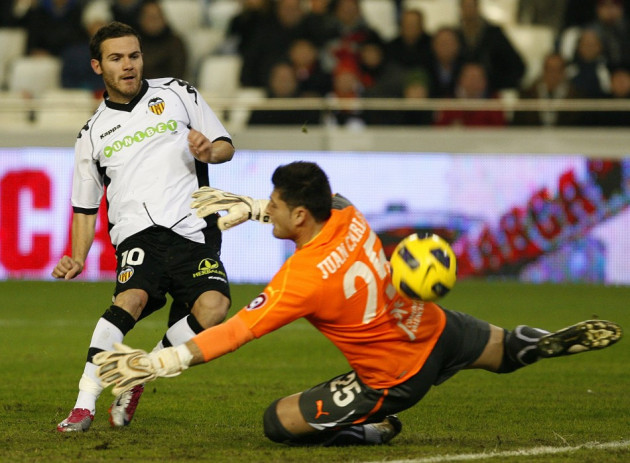 Arsenal are on the verge of signing Valencia winger Juan Mata, according to reports in Spain.
Marca claim the Gunners have made a club record €20m bid for the 23-year-old left winger, as Arsene Wenger moves to replace out-going captain Cesc Fabregas.
However, Wenger will have to fight two other Premier League sides, including Tottenham, for the Spain international, reports suggest.
Club officials are ready to discuss personal terms with the Spain Under-21 international, with Wenger prepared to smash the club's current transfer record - £13m for Russian international Andrey Arshavin - to bring the attacking midfielder to the Emirates.
Mata, one of the stars of Spain's recent Under-21 European Championship success, can play in central midfield or on the left-wing.
Wenger is also keen on Anderlecht midfielder Lucas Biglia, with Samir Nasri's Emirates future still undecided.
Reports suggest Arsenal scouts have been monitoring the 25-year-old Argentina international as Wenger looks to reinforce his midfield options.
And the Frenchman will be encouraged by recent comments Biglia made to Belgian newspaper Het Nieuwsblad.
"I think I have ended my cycle at Anderlecht and I want to do something new," he said.
"The board know what I want to do. I know that playing for the Argentina national side means I get plenty of exposure and opens lots of doors.
"Sometimes I feel I have to do more because I am playing in Belgium. I am aware that it would be easier if I was playing in a different league."
Meanwhile, Arsenal are also reportedly interested in Chelsea centre-back Alex, as Wenger continues his search for defensive reinforcements this summer.
The 29-year-old Brazilian international made just 12 Premier League starts last season, after the arrival of David Luiz limited his first-team opportunities.
Finally, Barcelona midfielder Xavi believes the possible arrival of Cesc Fabregas from Arsenal will ensure the current European Champions continue their winning ways.
"I hope this saga ends soon. It's like the final piece of the puzzle which only needs inserting so it can be complete," Xavi told Sport.
"Cesc is just 24 and his arrival will ensure the current cycle at Barcelona is still working."
"I have been competeing for places with other players for 13 years now. The more competition in midfield, the better it is for us players.
"I hope Fabregas comes. Everything will be better and he will be at the best club in the world."