Ryo Miyaichi says he is ready to make a return to Arsenal and show he is capable of competing for a spot in the first team, after a season-long loan spell at Wigan.
The 20 year old has spent three loan spells away from the Gunners since signing in 2011, at Feyenoord, Bolton and Wigan respectively.
He only received limited game time with the Premier League relegation battlers this season due to injury problems, but he insists that the spell has made him grow up and edge closer to a debut for the Arsenal senior side.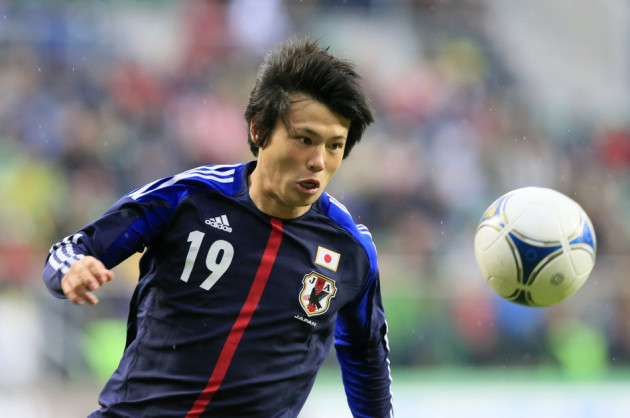 "They have a good attitude and a good philosophy for football," he told Arsenal Player.
"The manager [Roberto Martinez] is a very good man and it was a very good experience for me. Most of the time I was injured. I couldn't play a lot of games and I couldn't show my quality. It was disappointing for me but I'm so appreciative to the Wigan supporters, the Wigan manager and the Wigan players. It was a very good experience.
"Being there helped me to grow up. As a person, I'm growing up every day. When I was at Wigan the training was very good and the people are very kind so I got some good experience there. I feel I'm improving but I need to keep working hard."
While Miyaichi's injuries have kept him from excelling at Wigan, Martinez still believes theJapan international fcan be a success in the future.
And the 20 year old admitted he was flattered to hear such praise from the highly esteemed manager.
"It's great to hear that [kind of compliment] and I'm so appreciative," he explained. "I'm always ready to play for Arsenal. It's my dream to play for Arsenal. First of all, I have to recover as soon as possible. Then I want to show my quality when I get fit."
Meanwhile, another Arsenal youngster looks set for the exit door, with Kyle Ebecilio set to leave the club for FC Twente, according to reports.
Ebecilio made the move to the Gunners' youth camp in the 2010 summer, and while Feyenoord had hoped to keep hold of the teen, he hasn't fulfilled the potential at north London that the likes of his cousin Jeffrey Bruma has, who is excelling on loan for Hamburg from Chelsea.