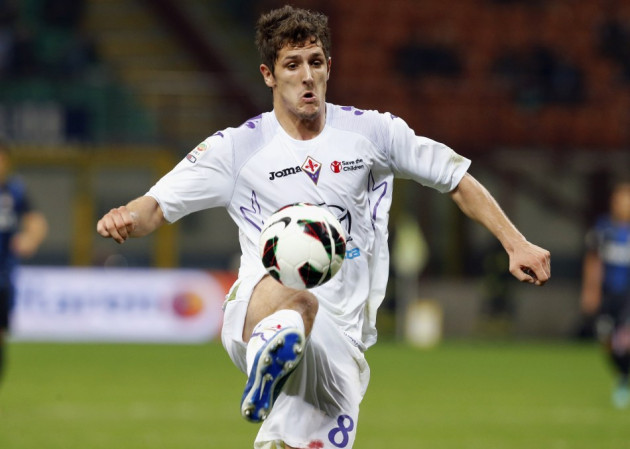 Arsenal face an uphill battle in the hopes of securing Fiorentina's Stevan Jovetic after Juventus goalkeeper Gianluigi Buffon revealed the striker would be welcome at the Serie A champions.
Juventus are looking to purchase a big name striker this summer, after their pursuit of Robin van Persie fell through last season and they ended up landing the eventually-disappointing Nicklas Bendtner on loan.
Arsenal have long been chasing Jovetic, who scored 13 goals in 31 appearances for Fiorentina last season, but Buffon believes he would improve the Old Lady's squad as they look to become a force in Europe again.
"Jovetic? Any player who will help Juventus improve is more than welcome, except a goalkeeper of course...," Buffon told Tuttosport.
"We must follow the path we are on and try to improve on our performances from the past few seasons."
While Juventus won the Serie A title, the side were beaten convincingly by eventual winners Bayern Munich in the Champions league quarter final. But Buffon believes that the Italian outfit have a lot to look forward to next season, and don't have to fear any of their big stars leaving.
"It will not be easy to close the gap with the European top clubs, of which Bayern Munich has impressed me the most," he explained.
"But Italian football has plenty of young talents, both at Juventus and at other clubs. I believe in Juventus' management and don't fear the departure of any champions."
Arsenal once again showed promise in last season's Champions League, but not enough to pass through the last 16, also falling victims to Bayern's dominance.
Arsene Wenger has since reportedly been given a £70m transfer budget for the summer, with the manager finally set to spend big as he looks to end the north London club's trophyless run.
Besides Jovetic, Gonzalo Higuain is also believed to be a top target for the Gunners, with Wenger hoping to seriously build on his attacking line-up and create more depth in the squad.
But both strikers have interest from other clubs, and whether Wenger will be willing to pay over the odds to beat off the opposition remains to be seen. And Jovetic is already rated at £25m, and would thus require a club-record fee to land the Montenegrin.