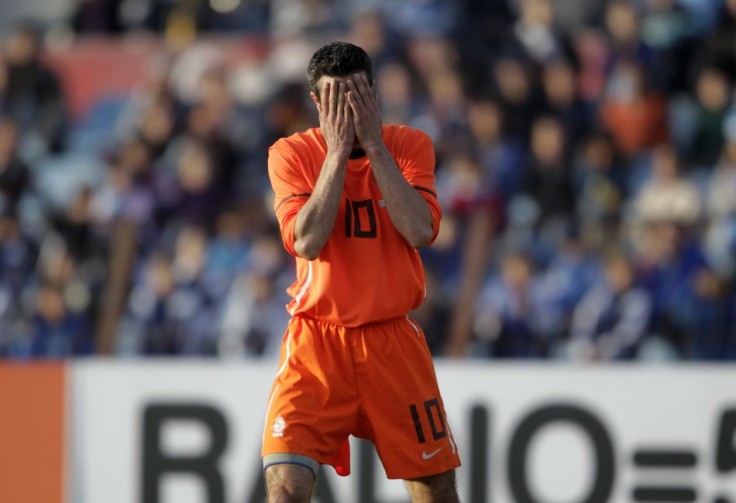 Arsenal captain Robin van Persie will be ordered not to talk to the press while on international duty with Holland at the summer's European Championships. The 28 year old striker has only one year left on his contract with the Gunners and has refused to discuss a new deal till he returns from the summer's tournaments, sparking fears he may leave the club by then. His future has been the subject of much speculation in recent weeks, with Manchester City, Manchester United and Juventus all said to be interested in signing him.
The London club, who are understandably desperate to hold on to their talismanic striker, have apparently lodged a request with the Dutch Football Association, to avoid questions and conferences involving the player during the summer's showpiece event in Poland and Ukraine, in order to prevent him answering questions about his future.
"We made a deal with Arsenal and he won't talk to the press," the Telegraph quoted a spokesman for KNVB - the Dutch Football Association - as saying.
The striker met with Gunners' Chief Executive Ivan Gazidis and manager Arsene Wenger on Wednesday to discuss his future but nothing seems to have come of it, according to a report in the Guardian.
Meanwhile, super-rich Russian club Anzhi Makhachkala have added their names to the list of suitors for van Persie and, according to the Mirror, could be set to offer a three year deal worth £45mn.
The Russian club's manager is van Persie's compatriot Guus Hiddink is keen on the striker and has been told by owner Suleyman Kerimov he can go shopping for three world-class players and offer them tax-free wages of £300,000 per week, reads the report.
"In this summer's transfer period we are going to get a couple of really well targeted investments to build this Anzhi team into an even bigger side in world football. We have made it possible to break into the top five in Russian football. We are now among the traditional strong teams from Moscow and St Petersburg," Hiddink said.
"But we need to make even bigger steps than we have done so far, to play for the top spots. Initially I was not going to put my eye on a Dutch player, but now I am not ruling out that this could take place," the former Chelsea boss added.
Former Barcelona and Inter Milan striker Samuel Eto'o is currently the club's highest earner, taking home a reported £320,000 each week. The Cameroonian scored 13 goals for his new club, in 22 league appearances after moving to Moscow from Italy last summer.