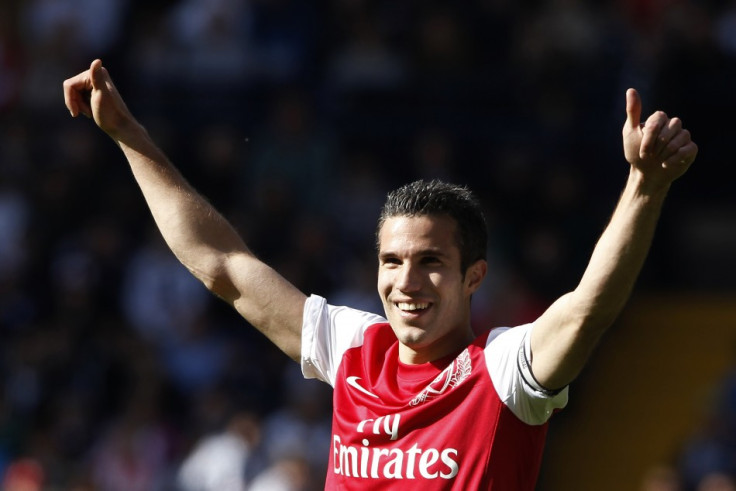 Arsenal captain Robin van Persie has been spotted house-hunting in Cheshire, reports the Daily Star.
The Dutch forward, who has less than a year left on his contract with the Gunners, recently revealed he did not intend to sign a new deal with the club and has since been linked with summer moves to one of Manchester City, Manchester United or Juventus.
The report claims van Persie was seen viewing potential new homes in the millionaires' village of Hale, near Altrincham in Greater Manchester, earlier this week before going on holiday, in perhaps the clearest indication the 28 year old has his heart set on a move to one of the Manchester clubs.
Meanwhile, Arsenal's new signing, Lukas Podolski, has said he hopes the club can retain the services of van Persie. Despite the uncertainty regarding the Gunners skipper's future at north London, the Germany forward admitted he would like the opportunity to form a strike partnership with the Holland international. Podolski joined Arsenal this summer from Cologne, along with France striker Olivier Giroud, who was signed from Ligue 1 champions Montpellier.
"All I can say is van Persie had an amazing record last season and hopefully there is a way he can stay with Arsenal. It would be great to play with him, but obviously this is not in my control," ESPN quoted the 27 year old as saying. Unfortunately, the chances of van Perise signing an extension with the Gunners looks slim, especially after the club's chief scout, Gilles Grimandi, revealed Giroud was bought as a direct replacement for the Dutchman, with his impending departure in mind.
"Was the recruitment of Giroud made to compensate for his [Van Persie's] departure? Yes, we worked to avoid being cornered. We want him to stay home but he is left with one year on his contract so it is complicated. If there is a great offer and if he wants to leave, it will be difficult to keep him," Goal.com quoted Grimandi as saying.
Van Perise joined Arsenal from hometown club Feyenoord in 2004 and has made 279 appearances for the Gunners in all competitions, notching 132 goals and 63 assists.