Arsene Wenger has given updates on the situations surrounding Marouane Chamakh, Nicklas Bendtner and Theo Walcott, with the Arsenal manager insisting the latter wants to stay at the club, despite not signing a new deal.
Walcott is entering into the final 12 months of his contract with the Gunners, but has been clear throughout the summer that he is only interested in staying in north London as speculation surrounds a possible move to Liverpool.
And Wenger says that although the winger hasn't signed a new deal with Arsenal, he does want to stay at the club, and money isn't the issue as the involved parties continue talks.
"Theo has one year to go," he told Sky Sports. "We want to extend his contract. I think Theo loves the club.
"He is not obsessed by money, there is just a little difference [in the negotiations]."
Meanwhile, Bendtner is desperate to seal a move away from Arsenal, after spending a season on loan with Sunderland.
And though Wenger has lost Robin van Persie, and could lose Chamakh as well, the Frenchman has admitted that there is a distinct possibility that he will let Bendtner go before deadline day comes to a close tomorrow.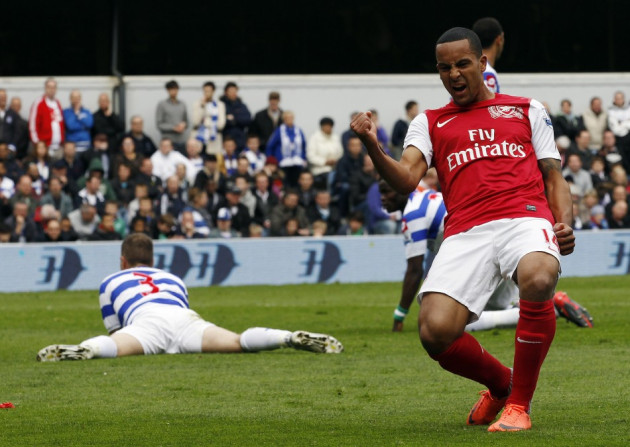 "There is a chance he is leaving," he said. "Where is not decided at the moment."
And on Chamakh, he added: "Again, we have not made an agreement with any club."
Should Wenger lose both Chamakh and Bendtner, he will certainly be at least a striker down, and with Park Chu Young unable to break into the first team he could be left with only three out-and-out strikers going into the new season.
But the manager has revealed that he is still looking to make acquisitions in the transfer market, despite doing a lot of his business early on in the summer.
"We are active but we do not want to bring average players in," he explained. "I am relaxed... if we find a top, top, top player, we will do it. We are working hard."
One of the issues for Arsenal over the last few seasons has been holding onto players who come into the last year of their contract, with the likes of Samir Nasri, Gael Clichy and Robin van Persie all holding the power to leave because of their deals winding down.
But if Wenger can keep Walcott, the trend may finally be broken, and the side may be able to start creating a core of players who are in the club for the long term benefits as well as the short term.