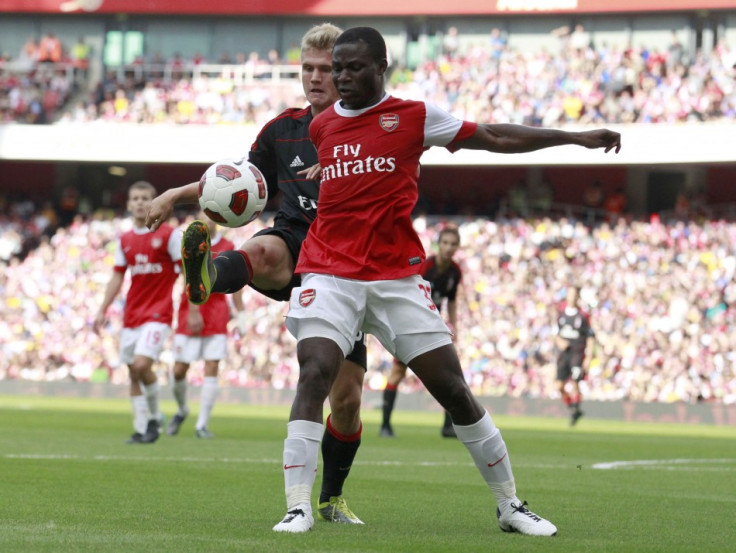 Emmanuel Frimpong has revealed that he would consider going on loan in January if the opportunity came about, with the 19 year old hoping to get more game time and continue to grow and develop.
Though Frimpong has made 11 appearances so far this season, the defensive midfielder wants to be a regular starter, and has hinted that he might head somewhere as early as January to become more experienced on the pitch.
Arsenal had some injury problems at the start of the season, but now that players are returning, Frimpong admits he will have issues with breaking into the first team.
"At the moment it's hard for me to get into the team, no doubt about that," he said. "When you aren't playing, the obvious choice is to go out for a little while and try to get some game time.
"When January comes we'll see - you never know how things will go, so we'll look at it then."
Frimpong insisted that with players like Alex Song, Aaron Ramsey and Mikel Arteta around, he is always going to find it difficult to be given a chance by Arsene Wenger.
"Obviously I had a decent start to the season but when players like Alex Song are back, along with Mikel Arteta and Aaron Ramsey, it's normal that they'll play because they're more senior than I am," he explained.
"Aaron and Alex had to wait for their chances in the past and that's what happens in football.
"You have to be patient and can't expect to be thrown straight in. You need to keep learning and hope that, when your chance comes, everything goes well."
Whether Arsenal will be willing to send Frimpong on loan remains to be seen, and with the season hitting the business end after January, Wenger may want to keep the starlet in order to maintain depth in the Gunners squad.
After a disappointing start to their campaign, Arsenal have recovered well, positioning themselves at seventh in the Premier League table and just a win behind fourth placed Newcastle.