Arsenal are prepared to spend £70m on the Real Madrid trio of Karim Benzema, Angel di Maria and Mesut Ozil, according to the Mail Online. The Gunners believe they have received encouragement from Santiago Bernabeu chiefs regarding an approach for the French, Argentine and German internationals respectively.
Arsene Wenger is believed to be desperate to make new signings before the transfer window closes on 2 September, particularly after being handed a very difficult draw in the group stages of the Champions League this season - the north London club will face last season's runners-up Borussia Dortmund, Serie A giants Napoli (who spent £34.5m, according to the BBC, on Arsenal striker target Gonzalo Higuain in July) and Ligue 1 club Olympique Marseille.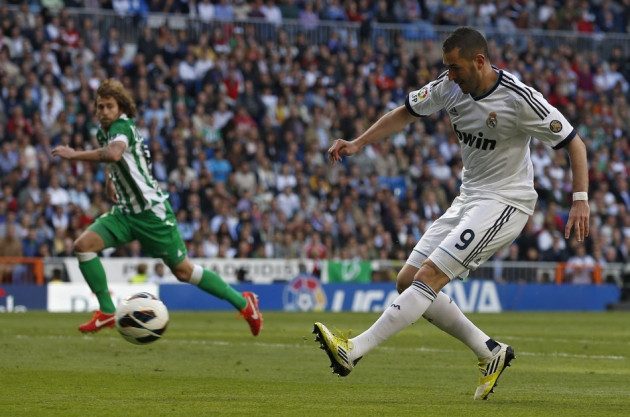 Arsenal have made only two signings so far this summer and both have been free transfers. Yaya Sanogo, a France U21 International, signed from Ligue 1 club Auxerre and ex-Gunner Mathieu Flamini re-joins Wenger after a spell with Italian club AC Milan.
Neither Sanogo nor Flamini have satisfied the fans' demand for big-money and high-profile signings, something they feel their club desperately needs in order to compete with the likes of Manchester United, Manchester City and Chelsea in the Premier League.
Wenger has remained as steadfast as ever in refusing to bow to pressure and sanction the signing of world-class players for large sums of money. However, it seems the Frenchman has finally been forced into opening his chequebook, following the fury of fans and the fact that a number of injuries have severely compromised his first team.
Spaniard Mikel Arteta, England youngster Alex Oxlade-Chamberlain and Frenchman Abou Diaby are all long-term absentees from midfield. German international Lukas Podolski and Belgian defender Thomas Vermaelen are also out with fitness issues, leaving the attack and defence in uncertain conditions.
However, given Arsenal's weak record in the transfer market and the fact Wenger has only 72-odd hours before the window closes, the likelihood of the Gunners landing even one of the proposed Madrid trio is slim. Additionally, any approach for three of Madrid's most influential attacking players also depends on the Spanish club's successful signing of Tottenham winger Gareth Bale, in a world record £86m move.
It is believed that while Bale's switch to the Bernabeu has been all but signed and sealed, Spurs are dragging their feet over the transfer, leaving Madrid to worry about their own deadlines. And if Bale does not move from White Hart Lane before the window closes, there is no chance Madrid will release either one of Benzema, di Maria or Ozil.
Meanwhile, Wenger is preparing Arsenal for the first north London derby of the season. The Gunners host Andre Villas-Boas and Tottenham on Sunday afternoon.
"We had a big battle with Tottenham last year, let's not forget that. At one point we were seven points behind, we lost there and we still bounced back and managed to [make up] eight points in 10 games," Wenger told www.arsenal.com.