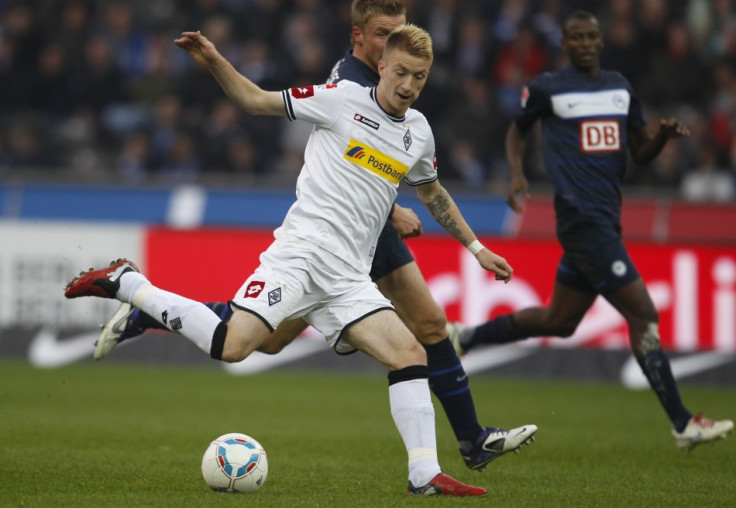 Confirmed Arsenal target Marco Reus has explained his decision to stay in Germany this year, with the midfielder citing playing alongside Mario Gotze as one of a few reasons for committing to the Bundelisga for his future.
Reus was the subject of a great deal of transfer speculation in the lead up to January, but the Borussia Monchengladbach man chose to sign for Borussia Dortmund to play alongside other promising German youngsters Mario Gotze and Julian Koch.
And while Arsenal have been connected to Reus on many occasions, and also Gotze, the 22 year old says he wants to make the most out of his opportunity to represent both club and country.
"I opted for the path to Borussia Dortmund and I am convinced that it is the right step in my life. But until June I will put my all in for Gladbach, and give everything," he told German paper De Welt.
"It is important that everyone is trying to make the best out of their careers - and they must also be true to themselves."
Reus has an eye firmly on making the German side in the 2014 Brazil World Cup, where the starlet will no doubt be watched by many clubs including Arsenal.
"This way I can improve myself," he said when asked if his move to Dortmund would help his claim to a spot on the German side.
"I am glad, because if I can make the national team i can train with players like Mesut Ozil and Mario Gotze. These are great players."
Monchengladbach manager Lucien Favre revealed in November that Arsenal had made a personal check on Reus, with Wenger telling the German that the youngster had been recommended to him by none other than Gunners legend Jens Lehmann.
"Jens Lehmann gave him [Wenger] a tip to keep an eye on Marco and Arsene then called me," Favre said, as speculation surrounded Reus' future increased.
"I know Arsene very well and I just told him the truth: that Marco is a very, very interesting player.
"But I am coach of Monchengladbach and I would like to keep hold of him."
But neither Favre or Wenger would get their wish with Reus, as the starlet signed with Dortmund on an agreement to move to the club in the summer for a reported fee of €17.5 million, according to the German press.