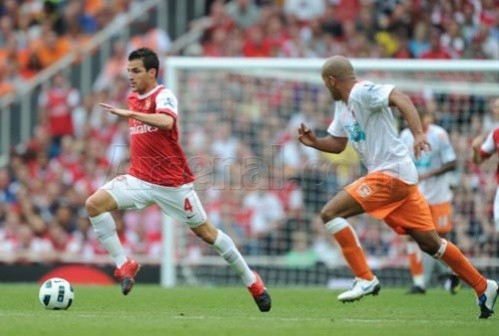 The 25 year old midfielder left London to rejoin boyhood club Barcelona last summer after being publicly courted by the Catalans but has failed to properly establish himself at the Camp Nou. The Spanish international has often admitted he still holds the Emirates outfit in high regard and has now backed his former manager to restore the club to its glory days. The club is in the middle of a seven season trophy drought and has seen top players, including Fabregas, leave every summer, meaning Wenger is constantly in a state of re-building.
"Arsene Wenger is amazing and I'm sure he will prove it again this season. He always finds the best young talent in Europe and has the courage to bring them in and give them their chance. That is his special talent, the way he works with a player to build their confidence and encourage them to play, to perform at their best. That's why I'm confident that Arsenal will again be up there challenging," Fabregas explained in a report by The Sun.
The midfielder has been in the news of late after voicing his unhappiness at the lack of first team action in Spain. However, those reports were countered by the player himself, who insisted he was well aware of the magnitude of the task when he signed for the club.
"It was a privilege for me to spend eight years at such a magnificent club [Arsenal]. But now is a new chapter at Barcelona and I said when I signed here that it was going to be the most exciting and difficult challenge of my life. I knew I was coming to compete for a place against the best players in the world but I like big challenges. If I didn't I would have stayed at Arsenal where I was the captain, where I played every game and where I was treated so well," he added, in The Sun's report.
Finally, Fabregas has also admitted his dream is to play the Champions League final, with Barcelona, at Wembley. The midfielder, who owes all of his development as a player to the London club, is unhappy at having left England with only an FA Cup winner's medal to his name. He is equally aware of the memory of the 1-2 defeat the Gunners suffered in the 2005/06 Champions League final, to... Barcelona.
"I would love to be there, that would be something very special [at Wembley]. Special for me because I love London so much... but special for Barcelona too because we have very happy memories there," he concluded.