Vito Mannone says he is intent on keeping his number one spot for Arsenal this season, despite tough competition from Wojciech Szczesny to be the club's main keeper.
Mannone has had his chance to shine for the Gunners this season in the midst of injury problems for Szczesny, and the Italian has been at the back of some brilliant form for the side that has seen them take an away win in the Champions League and keep clean sheets against Stoke and Liverpool.
And after letting only one goal in against Montpellier as the result of a penalty, Mannone believes he is showing just how capable he is of being the number one stopper for Arsenal.
"I have always been focused," he told the Arsenal website. "I had two clean sheets in the first two games I played and before the Southampton game [which saw Szczesny return] the boss talked to me and for the first time I felt he understood I was ready to be No 1.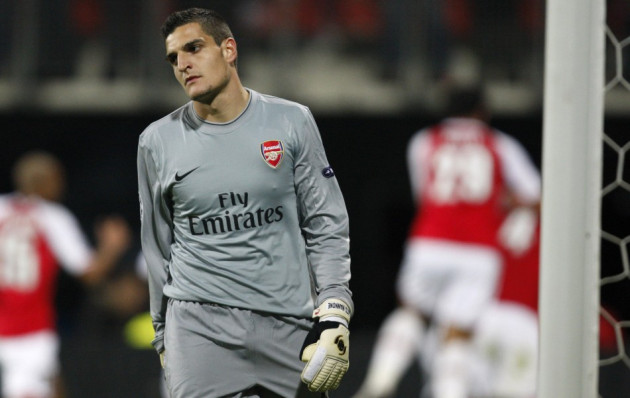 "It went well [against Montpellier] so I am really focused on gaining the No 1 spot and keeping it. The boss had some nice words for me and he talked to me and said I am ready to be No 1.
"So I just need to show him what I'm doing and hopefully I can get that spot and do my best to help this team win some trophies."
Wenger faces a selection headache over the keepers as he prepares for Arsenal to take on City over the weekend, and Mannone believes that the match will be a great test of just how serious the Gunners are about breaking their trophyless spell this season.
"It is a tough test. I thought we were in a good state at Liverpool because we went to a big game in a big stadium and from there we really started our season," he explained.
"City are champions so we know we have to go there and prepare properly. We must dictate the game because they are a great team and it will be a top challenge."