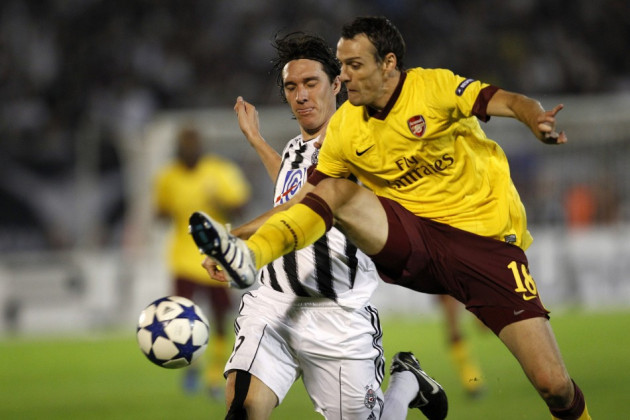 Former Arsenal defender Sebastien Squillaci has criticised the Gunners for making him remain in north London a year longer than he wanted but admitted he understood the needs of the club come before hiw own.
The French defender was released in the summer and has now joined Bastia on a free transfer but it seems he was keen to depart the Emirates a full year previously after struggling to make an impression in the first team.
Squillaci arrived in the summer of 2010 having excelled for Sevilla and having represented France at the World Cup in South Africa.
Despite his wealth of experience he struggled to convince Arsene Wenger that he deserved regular first team action and in his second season made just 6 appearances in all competitions.
This led to Squallaci seeking a move, but Wenger preferred to keep hold of the centre back only for him to make just one appearance all season.
Reflecting on his time in north London, Squillaci told French publication L'Equipe: "When I joined Arsenal in summer 2010, I just came from the World Cup in South Africa and I didn't have any pre-season preparation.
"I was the number three centre defender, but (Thomas) Vermaelen got injured and I had to play. I had a good first two months, but in December it was very difficult. I was exhausted physically and I was not good.
"Training sessions when you don't play anymore? Sometimes it was difficult indeed, but it is my job. I could not go to training sessions without any enthusiasm. Your team-mates need strong opposition. I could not give up, even if I didn't always have a great state of mind.
"In summer 2012, the club could have made a good gesture to let me leave, but they didn't want. A club is just like a business, human being is not the top concern. But I woke up every morning to go and play football, it was not going down the mine."
Squillaci is now back playing regularly in Ligue 1 for Bastia and will be hoping to further extend his playing career after a difficult three year stay at Arsenal.