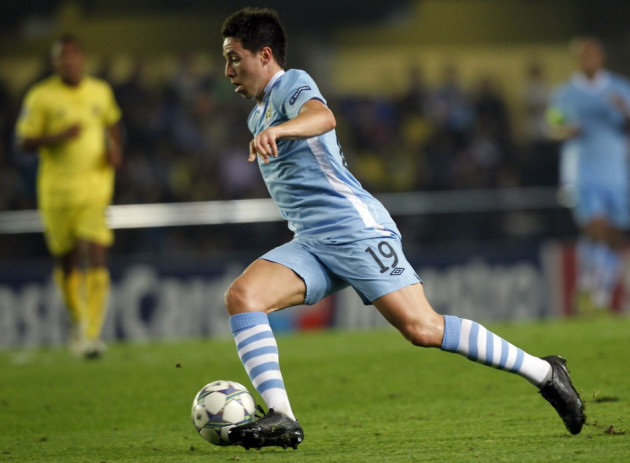 Arsenal manager Arsene Wenger allowed Samir Nasri to leave in the summer because of the potential he saw in Aaron Ramsey and Jack Wilshire.
Nasri moved to Manchester City in the summer after he refused to sign an extension to his Gunners' contract.
The Frenchman's protracted transfer unsettled Arsenal's pre-season preparations, as Wenger was forced into the transfer market on deadline day to cover the loss of the midfielder, as well as the departures of Cesc Fabregas and Gael Clichy.
Wenger brought in Mikel Arteta, Yossi Benayoun, Park Chu-young and Per Mertesacker in a frantic last minute spending spree which many have attributed as a cause for Arsenal's slow start to the campaign.
However, the Arsenal manager has revealed he was always confident that allowing Nasri to leave was in the best interests of the club, particularly with the rich potential of Ramsey and Wilshire waiting in reserve.
"You want to keep your young players but when we didn't reach an agreement over a new contract I prepared myself to face it [the prospect of Nasri leaving]," Wenger told Arsenal's official Web site.
"Overall I knew that Ramsey didn't play much last year and that he would be in contention if he had a chance not to be injured. In pre-season I felt that Wilshire and Ramsey worked very well together.
"What we did not expect of course was to lose Wilshire on top of that. We had to admit then that we were a little bit exposed quality and number-wise."
Tuesday night will see Samir Nasri make his first appearance against Arsenal since an acrimonious transfer to City in the summer.
Wenger has already implied that Nasri's departure came down to money - the midfielder doubled his wages after he refused to sign a new contract at Arsenal in the summer - but he hopes the Arsenal supporters do not react too harshly to the France international's return.
"I hope Samir gets a good reception," said Wenger. "I don't know if he will play but personally I want every player who has played for us to be respected when they come back.
"Samir improved tremendously while he was with us. He has developed fantastically well from a non-scoring player to a guy who could make a decision. Of course he was an important player here and I'm sure he will be for man City as well."