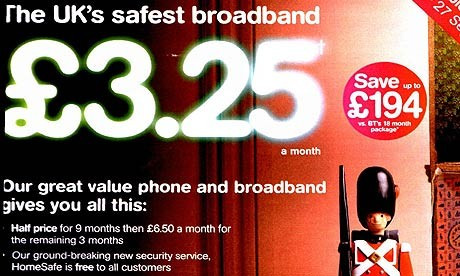 Internet Service Provider TalkTalk's campaign has reportedly been banned by the Advertising Standards Authority (ASA) for violating the advertising code and misleading consumers with false security claims. Rival ISP - BT and a couple of members of the public had reportedly lodged a complaint with the advertising watchdog that TalkTalk's campaign was misleading and alleging that it offered only "basic security".
TalkTalk has been heavily promoting its online security service since the launch of its HomeSafe security suite in May. It has made claims of offering better parental controls to prevent adult content from being accessed by children and providing network-level security.
TalkTalk has been accused of false promotion on its TV, posters and in the national press that its customers would get "the UK's safest broadband" thanks to the HomeSafe service. This campaign has been faulted for misleading people into believing it to be a complete home security solution including in wireless connections.
For its part, TalkTalk says that its claim of being the "safest" holds good only for households with broadband connections and not for wireless connections.
Not buying this line, the ASA has alleged that its images and "deceptive" ad campaigns would prompt consumers into the false belief of getting the safest online experience of any service provider. Besides, most customers would be under the assumption of acquiring full security services like virus security and hacking protection and not just limiting access to particular sites.
Ruling the ad campaign as fraudulent and in breach of the advertising code, the ASA has imposed a ban on the campaign.
According to latest market estimates, around 200,000 customers have already signed up for the HomeSafe service since its launch in May.