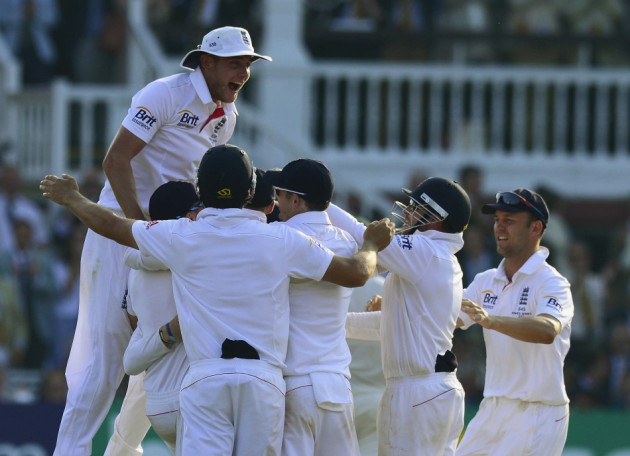 It was Christmas and birthday syndrome at Lord's for England fans and players as a huge 347-run victory against Australia left Alastair Cook's team on the brink of a third consecutive Ashes series win and left their great sporting rivals begging for mercy.
Not since 1936/37 has a team overturned a 2-0 series defect in the Ashes and despite an encouraging start to the series at Trent Bridge, Australia require swift and dramatic surgery to prevent a first whitewash on English soil for 127 years, not least to spark into life a turnaround in the series.
But while Cook and coach Andy Flower will be revelling in England's perfect start, the home side's dominance leaves the remainder of the series as a sporting contest as hollow as any in recent memory. While in years gone by victories over Australia were followed by mass outbreaks of self-pinching and open-bus parades around Trafalgar Square, they're now taken for granted and can't be accompanied with the same fanfare.
Australia's unerring dominance in the 90s was offset by the individuals at the fore - Shane Warne, Glenn McGrath and Adam Gilchrist changed the face of cricket.
England's team was anything but a cast of the world's best players, but they lived in the knowledge Australia were reproducing their Ashes dominance across Test cricket with unrelenting ruthlessness. The problem with England's current streak of dominance is their team can't be heralded in the same regard.
On the fringes of that great Australia side, Lehmann will have garnered the need to take advantage of every opportunity and despite a harrowing defeat in four days, the tourists will wonder 'what if' after reducing England to 28 for 3 on the opening morning. The first day exposed in equal measure how this Australian side can be prone to moments of brilliance and failure with alarming fluctuation.
Steve Smith's triple strike in the final hour had tipped the scales the Aussies' way but after Ian Bell's second hundred of the series, for once, a cricket team's baffling persistence with the nightwatchman paid off, as Graeme Swann and Stuart Broad were allowed the license to pile ontenth wicket runs at the start of day two.
In circumstances akin to their first test problems, Australia laid the foundations for a decent first innings score in reply, before losing 10 wickets in the space of 96 runs, sparked into life by Shane Watson's wasted review.
If Mickey Arthur's pre-Test accusations of infighting between Watson and captain Michael Clarke was merely snipping ahead of a court date with Cricket Australia, then the frivolous referral from the opener will surely have stirred some previously buried vendettas.
Clarke himself is not totally blameless. Not only did he orchestrate unnecessary changes after the first Test, he opted for protection over responsibility in the batting order, dropping to five behind Phil Hughes. What was likely a ploy to avoid as much of the new ball as possible translated as a cowardly act.
The skipper may be radical in the field and bold in his decisions but the team were a victim of his itchy trigger finger. Despite Ryan Harris' success, Mitchell Starc was unfortunate to miss out, especially given the damage inflicted after he tamed the swinging ball at Trent Bridge.
A healthy lead of 233 did nothing to calm the heads of England's top order. Cook, Kevin Pietersen and Jonathan Trott all average under 27 in this series and were dismissed before the end of day two in farcical circumstances.
If Australia had been handed (another) glimmer of hope it was dashed once Joe Root found his range. While the Yorkshireman remains unconvincing away from the home of cricket, his patience was in stark contrast to those experienced men around him. A chance for a double century against Australia came and went at the start of day four, as England toyed with their opponents with an early decleration.
Watson's pads were employed to deadly effect for the 24th time in Tests as the floodgates were burst open and despite resistance from Usman Khawaja and Clarke, and another decision review system howler from the umpiring team which saw to Ashton Agar, England were home in the final over of play.
After Australia's exploits in Nottingham, and England's subsequent win, only weather will prevent the home side closing in all five Tests this summer the precurser to more unbridled joy across the nation. But as far as the purity and dignity of the Ashes are concerned, be careful what you wish for.