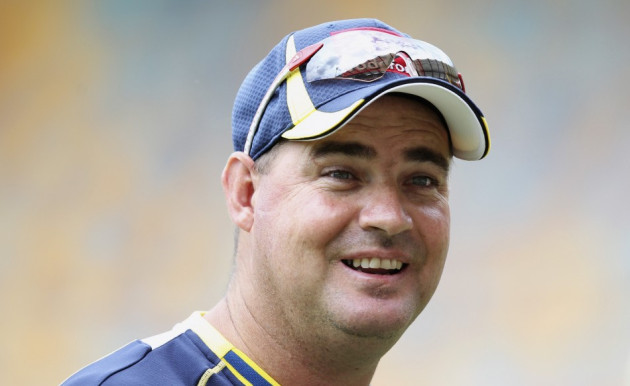 Australia coach Mickey Arthur has stoked the fire ahead of the Ashes series by claiming the tourists have the better bowling attack than England.
Despite possessing a relatively inexperienced attack Arthur is confident that the England batsman will struggle to cope, despite many pundits feeling that this is the weakest Australian bowling unit for some time.
"They are a very good cricket side but I would like to see how they handle pressure for a sustained period of time," Arthur told BBC Sport. "I honestly believe we can win the Ashes - we have the best all-round bowling attack in world cricket."
England are the bookmakers' favourite to retain the Ashes this summer and can boast one of the strongest bowling line ups in world cricket, including James Anderson, Stuart Broad and Graeme Swann who have 191 Tests between him.
Even Steven Finn, who is England's least experienced bowler, has tasted victory in an Ashes series when he took 13 wickets in just three Tests against Australia back in 2010/11.
While England have a settled attack, Australia have named six bowlers in their Ashes squad including James Faulkner who is yet to win a single test cap.
Peter Siddle is the most experienced bowler with 150 wickets in 41 Tests, while spinner Nathan Lyon has taken 76 wickets in 22 outings in the longer form.
Fellow fast bowlers James Pattinson, Mitchell Starc and Ryan Harris have taken 117 wickets between them in 31 Test appearances.
In comparison the front line trio of Anderson, Broad and Swann have taken a staggering 724 Test wickets in their 191 matches.
However, Arthur feels Australia have more depth, saying: "I'm talking depth wise, if we pick up an injury we have got somebody who can rock up and be just as effective - I think that's a massive boost for us.
"If we play for each other and the badge, it will be extremely powerful. If our batsmen get enough runs, we have a really good chance in this Ashes series because I'm confident we will get 20 wickets."
The Australian coach also believes that there is a flaw in England's batting line up when they are put under pressure for an extended period, citing South Africa's success when the defeated England 2-0 at home.
"When South Africa put them under pressure last year for extended periods of time we saw a couple of cracks develop," he added. "That is going to be our challenge to put them under pressure for that period."