Among large tech companies, IBM and HP have the highest number of employees using infidelity website Ashley Madison, which recently suffered a hacking attack. Cisco, Apple, Intel and Microsoft are also included in the list.
Dadaviz, which analysed data of the website leaked by hackers, revealed that IBM has 311 employees registered with Ashley Madison, while HP has 160 employees. The data crunching firm, however, suggested taking the figures with a grain of salt, as 34% of all Ashley Madison accounts are fake. The website allows users to register with fake email addresses and fake locations.
Distantly following HP, Cisco has 92 employees using the website, Apple has 63 and Intel has 61. Microsoft, Samsung, SAP, Oracle and Qualcomm are the other companies in the top 10 list.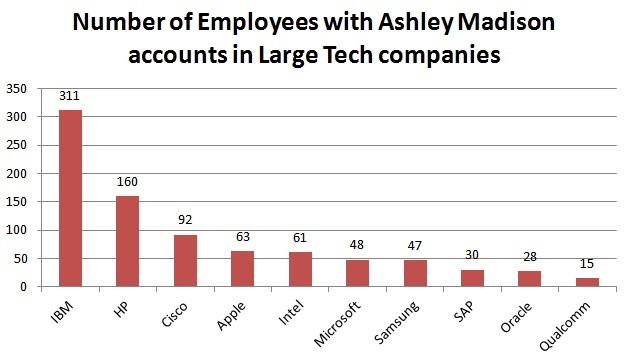 The leaked data also revealed that government officials across the globe have been using the website. In the US, there are 1,405 government officials using the website, the largest on the list. Brazil has 918 officials and Australia has 597.
Dadaviz also noted that not all Ashley Madison users are actually cheating on their partners, as 40% of the total users identified themselves as single. Based on country, the website's home Canada, has the highest number of users, with 6.3% of all Canadians having an Ashley Madison account. In the US, 5.1% of all citizens use the cheating site, while the figure is 4.6% in Australia.
The hacking of Ashley Madison and its parent company Avid Life Media has affected more than 37 million users. The operation has also led to the dumping of the alleged source code of the company's products onto the dark web. The hackers, who identified themselves as the Impact Team, first released snippets of the data back in July, followed by 10GB of customer information and 20GB of internal data.