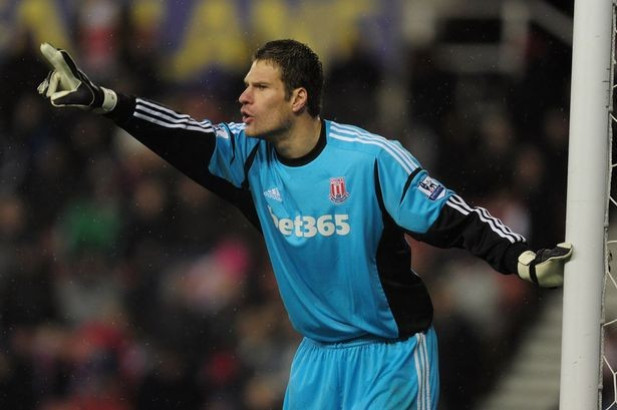 Stoke City manager Mark Hughes has warned off interest from Arsenal and Manchester United in goalkeeper Asmir Begovic.
Begovic has been subject to interest from the leading Premier League pair since The Potters signed Jack Butland from Birmingham City.
The Bosnian international was originally expected to play second fiddle to Butland this season but the England man has joined Barnsley on loan - tempering rumours regarding Begovic's potential move to Arsenal or United.
And Hughes, who is hopeful of keeping Begovic, said: "We've got one of the top keepers in Europe.
"When he goes to the World Cup, he might prove he's one of the best in the world. I'd like to work with Asmir for many, many seasons because I think he's that good.
"He's had a great week - qualifying for the World Cup and putting in an outstanding performance for us."
Hughes' views are at odds with those of chairman Peter Coates, who said last week that he would be open to allow Begovic to leave the club if the price was right.
"We would be reluctant to sell him because you want to keep your best players but you have to be realistic about things," said Coates. "You also have to take into consideration the player's view.
"If a call came from a top European club and was attractive to him, then you have to look at it.
"It wouldn't be much of a surprise to me and that's why we have contingency plans in place with other goalkeepers at the club."
With questions continuing to be asked regarding Wojciech Szczesny's long-term future and David de Gea continuing to be linked with a return to Spain, both Arsenal and United will likely be keeping an eye on Begovic's form.
Both Arsenal and United would likely have the finances available to seduce Stoke into parting ways with Begovic however the pair would have to rely on their current No.1 leaving the club in the near future.