ASOS Plc says it is positive about the progress towards achieving its sales target of £1 billion by 2015 and by that time it is expected international sales will account for 90 percent of total group's sales.
The group's performance in international markets is good with 65 percent of site traffic derived from outside Britain. It remains in a top five most visited apparel site in the world on a daily basis.
The group is scheduled to release its fourth-quarter interim management statement on Thursday. Shares of ASOS jumped over 18 percent after the announcement that its UK retail sales grew by 10 percent during the third quarter.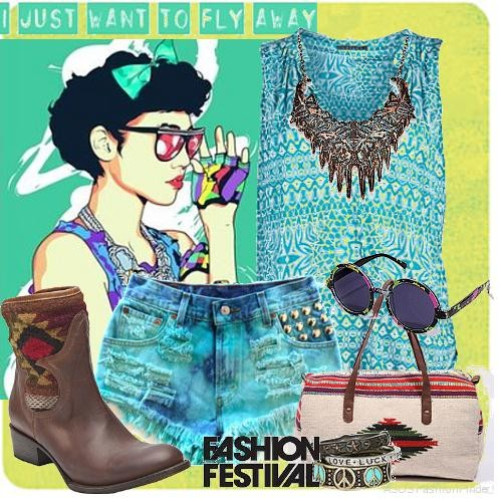 "We look forward to the prelims (year results in June) when we expect an update on the group's plans to enter the Asian market, in particular China, which should lead to a re-appraisal of medium to long-term growth targets," said analyst Wayne Brown from Collins Stewart.
The group's retail sales during the Q3 increased by 46 percent to £146.53 mln compared with £100.04 mln a year ago. Its international sales increased by 93 percent during the same period.
While many British retailers struggled during Christmas time due to rising prices and uncertainty in consumer environment as they restrain shopping of discretionary items, retailers with strong internet businesses performed better. This was due to the reason that the consumers obtained the benefit of the convenience and price transparency of shopping online.
"On Christmas Day 19 percent of ASOS's traffic was via a mobile device. I would be amazed if somewhere between 20 and 30 percent of our revenue wasn't (eventually) derived on a global scale off a mobile device," said CEO Nick Robertson to Reuters while commenting on the third quarter results.
The British online retailer is developing the ASOS platform from front as well as back end to handle all language character sets and not just western and it will take around 12 months longer than independently building platforms for different countries.
ASOS plans to continue to invest in the business globally to take advantage of opportunities. Though the business in Britain remains challenging, the group is confident of reporting another year with good results as its international profits more than compensate for the lower growth in UK.
Below is a summary of sector comparisons in terms of price earnings, earnings per share, dividend per share, dividend yields, return on equity and price-to-book ratio. The table explains how the company is performing against its peers/competitors in the sector. The table below represents top ten companies based on market capitalisation.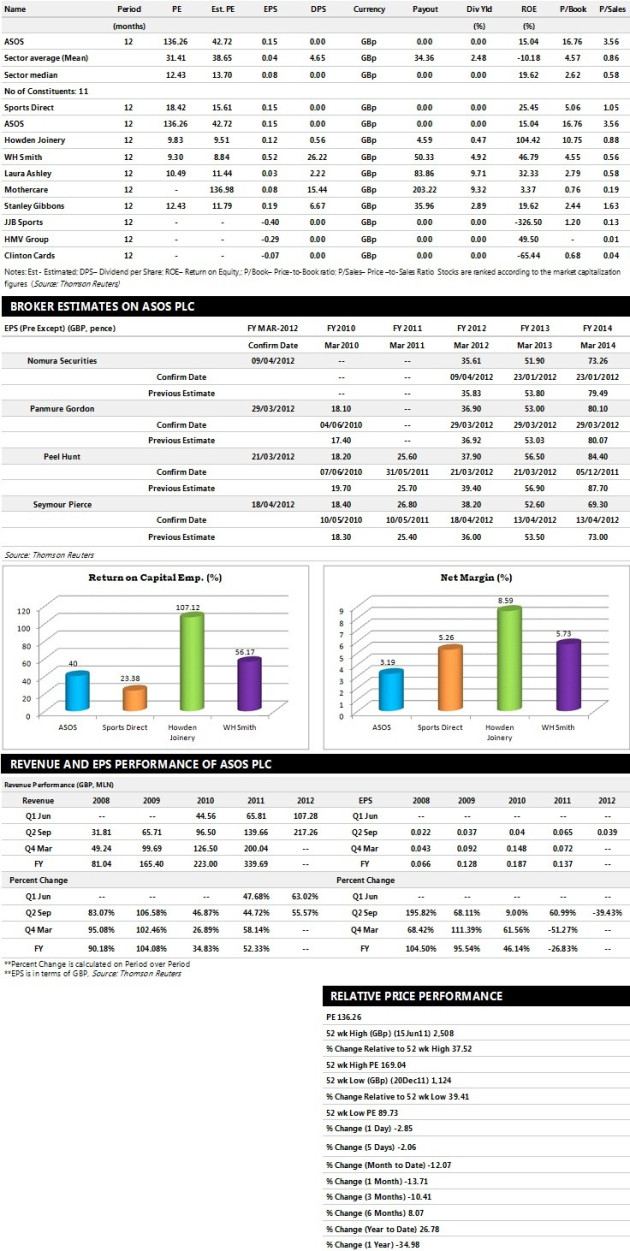 Brokers' Views:

- Seymour Pierce gives 'Outperform' rating with a target price of 1700 pence per share
- Nomura Securities assgins 'Neutral' rating on the stock with a target price of 1800 pence per share
- Panmure Gordon recommends 'Buy' rating with a target price of 2131 pence per share
- Singer Capital Markets assigns 'Hold' rating with a target price of 1950 pence per share
Earnings Outlook:

- Seymour Pierce estimates the company to report revenues of £506.70 million and £737.30 million for the FY 2012 and FY 2013 respectively with pre-tax profits (pre-except) of £40 million and £57 million. Earnings per share are projected at 38.20 pence for FY 2012 and 52.60 pence for FY 2013.
- Nomura Securities projects the company to record revenues of £508 million for the FY 2012 and £742 million for the FY 2013 with pre-tax profits (pre-except) of £40 million and £58 million respectively. Profit per share is estimated at 35.61 pence and 51.90 pence for the same periods.
- Panmure Gordon expects ASOS to earn revenues of £512 million for the FY 2012 and £685 million for the FY 2013 with pre-tax profits of £41.60 million and £59 million respectively. EPS is projected at 36.90 pence for FY 2012 and 53 pence for FY 2013.