Astronaut Scott Kelly tweets pictures of first flower to bloom in space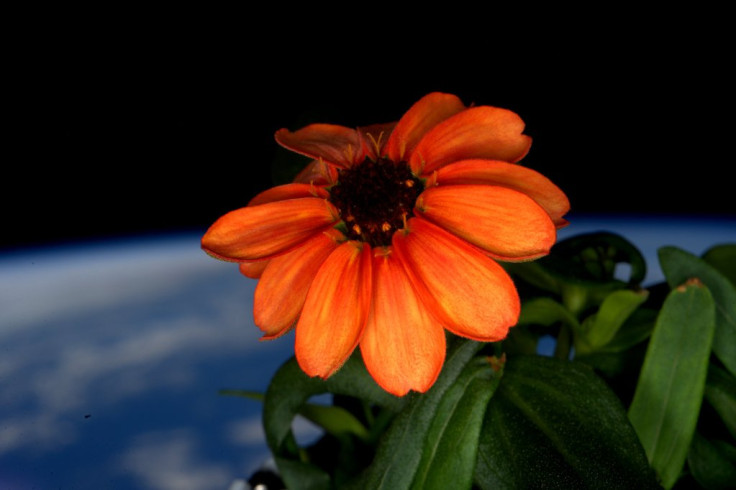 The International Space Station has a new guest. And no, it is not an astronaut. In fact, it is an orange zinnia flower that has bloomed for the first time ever in microgravity conditions.
US astronaut Scott Kelly posted a picture of the "space flower" on Twitter and wrote: "First ever flower grown in space makes its debut."
Kelly, who has been in space since March 2015, said that there were other life forms in space as well, while introducing the orange-petal zinnia to the world. Later he posted another image of the flower captioning it, "out in the sun for the first time".
#SpaceFlower out in the sun for the first time! #YearInSpace pic.twitter.com/Cghu9XGv1J

— Scott Kelly (@StationCDRKelly) January 17, 2016
How does your garden grow? Here's how my #spaceflower came to bloom: https://t.co/DbmTqqJopf #YearInSpace pic.twitter.com/kl1bxI96PJ

— Scott Kelly (@StationCDRKelly) January 16, 2016
Yes, there are other life forms in space! #SpaceFlower #YearInSpace pic.twitter.com/BJFWvQXmBB

— Scott Kelly (@StationCDRKelly) January 16, 2016
The zinnia crop has been grown in a portable plant production system called the Veggie, which was placed at the International Space Station (ISS) to grow lettuce for astronauts in May 2014. The first crop, the red romaine lettuce, aboard the orbiting lab was harvested in August 2015.
Although the first produce failed, astronauts said that the experiments were "exceptional" for "deep space missions of autonomous gardening".
"While the plants haven't grown perfectly, I think we have gained a lot from this, and we are learning both more about plants and fluids and also how better to operate between ground and station. Regardless of final flowering outcome we will have gained a lot," Nasa's team leader for the Veggie plant growth facility Dr Gioia Massa said in a statement.
After successfully harvesting lettuce in zero gravity, scientists opted to grow the zinnia flower not for their beauty, but as part of their experiment to understand how plants flower or grow in microgravity, the space agency said in its blog.
"The zinnia plant is very different from lettuce. It is more sensitive to environmental parameters and light characteristics," Veggie project manager Trent Smith said.
He added that growing a flowering crop like the zinnia in space is more challenging as it has a long growth duration which lasts between 60 and 80 days.
"Growing the zinnia plants will help advance our knowledge of how plants flower in the Veggie growth system, and will enable fruiting plants like tomatoes to be grown and eaten in space using Veggie as the in-orbit garden," Smith wrote in a blog in November.
© Copyright IBTimes 2023. All rights reserved.