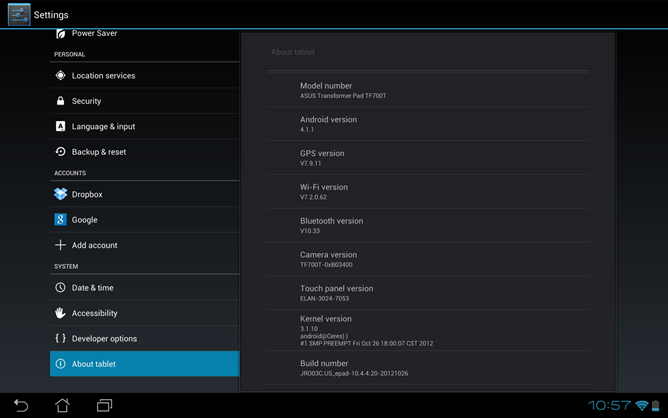 The Asus Transformer Pad Infinity TF700T has received a new firmware update v 10.4.4.20. The update is intended to be rolled out for the US, Japan, China, Taiwan and the worldwide variants of the Asus tablet, according to Android Police. To avail of the over-the-air (OTA) update, users may head to Settings > About tablet > System firmware update.
Users looking to download and install the newest firmware update may have a look at the changelog below, courtesy Android Police.
Wi-Fi Direct
Fine-tune Wi-Fi Direct connection behaviour
Camera
Fix the issue that in certain "aspect ratio" and "picture size" photos, the pixel dimension of picture would be different if taken in landscape and portrait mode
Settings
Fix the issue that, during HDMI output, the output screen will get cropped after user chooses "HDMI" item in "Settings"
Fix the issue that there will be no items in HDMI setting page when output via HDMI Fix the issue that the screen may flicker when rotate the pad after adjust brightness bar in "Settings"
Wi-Fi
Fix the issue that when user keeps on turning on/off Wi-Fi, sometimes it will stick in the "Turning Wi-Fi on..." status for a while
Bluetooth
Improve Bluetooth compatibility
App Backup
Fix the issue that it still shows backup success when user removes SD card during the backup process when App Backup is backing up applications to SD card
Sound Recorder
Fix the issue that the file recorded via Sound Recorder cannot be played after inserted in Supernote
Browser
Fix the issue that typing English after Chinese with Zuyin IME in the input field of Browser would cause what had been typed garbled
A month ago in October, the tablet received a minor update that brought some minor bug fixes. The update changed the build number from v10.4.4.16 to v10.4.4.18. Now, the update is up to 10.4.4.20 and retains the recently received Android 4.1.1 (Jelly Bean) version.