Donald Trump has conceded his Attorney General could have more accurate with regards to his contact with Russians, but insisted the issue is a play by Democrats to detract from losing the election.
The explosive issue took centre stage across the Atlantic earlier this week after The Washington Post revealed that then-senator Jeff Sessions met with the Russian Ambassador Sergey Kislyak twice last year during the campaign. Sessions failed to disclose the encounters during his confirmation hearing to become Trump's top lawyer in January.
In a series of tweets, Trump issued a vehement defence of Sessions' character and blamed the magnitude of the controversy on Democrats.
"Jeff Sessions is an honest man. He did not say anything wrong. He could have stated his response more accurately, but it was clearly not intentional," the president tweeted.
"This whole narrative is a way of saving face for Democrats losing an election that everyone thought they were supposed to win.
"The Democrats are overplaying their hand. They lost the election, and now they have lost their grip on reality. The real story is all of the illegal leaks of classified and other information. It is a total 'witch hunt!'" he added.
As the political storm engulfing the Trump administration's ties to Moscow continues to swirl, Sessions recused himself from any investigations into purported Russian meddling in the 2016 presidential election – a U-turn from his previous statement refusing to withdraw himself from probes related to the matter.
Sessions made the decision following advice from Justice Department ethics officials. "I have recused myself in the matters that deal with the Trump campaign," Sessions told reporters.
"Since I had involvement with campaign, I should not be involved in any campaign investigation," he added.
Despite recusing himself, the Attorney General also issued a stern defence of his conduct, saying: "Let me be clear: I never had meetings with Russian operatives or Russian intermediaries about the Trump campaign, and the idea that I was part of a 'continuing exchange of information during the campaign between Trump surrogates and intermediaries for the Russian government' is totally false."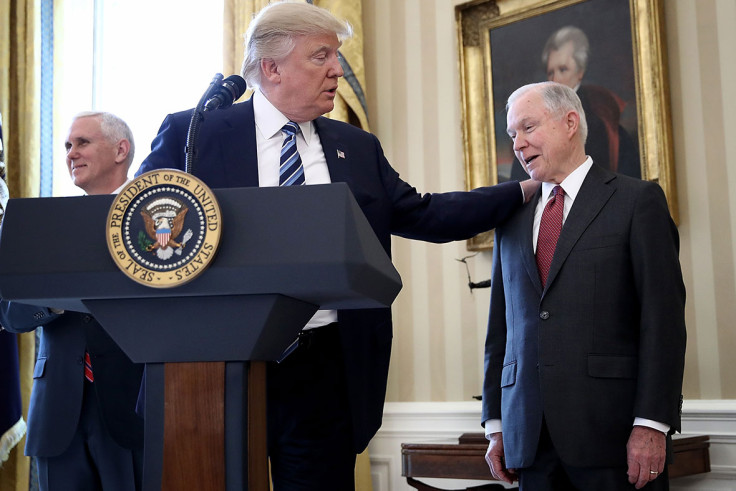 However, Democrats insist that Sessions' recusal does not go far enough and are demanding either his sacking or resignation. House Minority leader Nancy Pelosi said Sessions "lied under oath" and ripped into his "narrow recusal and his sorry attempt to explain away his perjury", which she described as "totally inadequate."
Meanwhile Senate Minority Leader Chuck Schumer accused the Trump administration of only resorting to "the right thing when they are caught doing the wrong thing."