As reports of Attorney General Jeff Sessions' meeting with one of Russia's most direct links to the US emerged, the calls for Trump's top lawyer to resign are growing louder.
Sergey Kislyak fact file
Date of birth: 1950
Speaks: Russian, English and French
Employee of the Foreign Ministry of the Russian Federation since 1977
Russia's ambassador to the US since 2008
One of the two meetings between the then-senator and Russia's ambassador to the US, Sergey Kislyak, took place in September 2016 "at the height of what US intelligence officials say was a Russian cyber campaign to upend the US presidential race," the Washington Post reported. Sessions may well be a familiar name, but what about the man on the other side of the table?
Who is Sergey Kislyak?
According to his Russian Embassy profile page, Kislyak was born in 1950. He was educated at the Moscow Engineering Physics Institute and graduated in 1973 before attending the USSR Academy of Foreign Trade, from which he graduated in 1977.
Kislyak speaks Russian, English and French and is married. He has one adult daughter.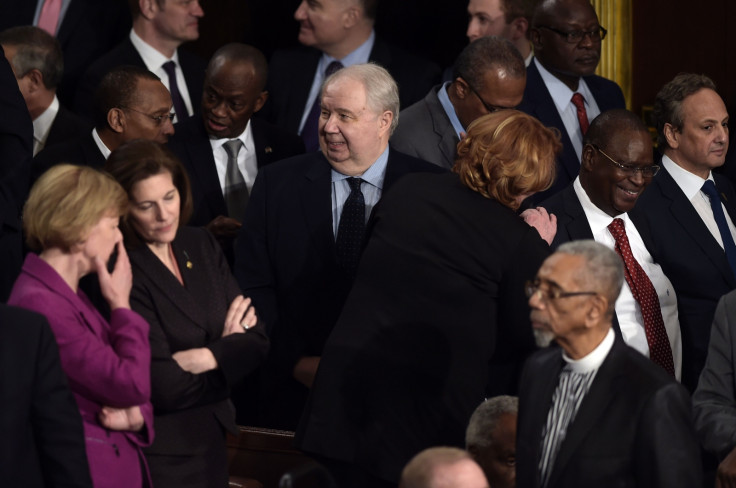 What is Kislyak's employment history?
He joined the foreign ministry that same year and has held governmental posts ever since. In 1981 he began serving on the USSR's mission to the United Nations in New York and went on to become a first secretary and counsellor of the embassy of the USSR to the US in 1985.
Kislyak would go on to hold a number of top jobs in the foreign service, including as Russia's ambassador to Belgium and the permanent representative of Russia to Nato in Belgium between 1998 and 2003.
On 26 July 2008, former President Dmitry Medvedev (who is currently prime minister) appointed Kislyak as Russia's ambassador to the US.
Why is Kislyak in the news?
On 29 December, the Obama administration reacted to Moscow's efforts to meddle with the US presidential election by expelling 35 Russian diplomats suspected of being spies, as well as imposing sanctions on state agencies and individuals.
In January, Washington Post columnist David Ignatius reported: "According to a senior US government official, [Trump's national security adviser, Michael] Flynn phoned Russian Ambassador Sergey Kislyak several times on 29 Dec, the day the Obama administration announced the expulsion of 35 Russian officials as well as other measures in retaliation for the hacking."
While the topic of their conversation was not clear, questions swirled around whether they discussed the sanctions. Just days before the 45th president's inauguration, incoming White House Press Secretary Sean Spicer dismissed the idea that the pair discussed sanctions and said their call had "centered on the logistics" of a conversation between Putin and Trump once he took office.
While Flynn made assurances that sanctions had not been discussed, administration officials defended him. However, things quickly unravelled for Flynn last month after reports emerged that he did discuss US sanctions against Russia with Kislyak.
Following the revelations about his interactions with Kislyak, Flynn was forced to resign.
During his confirmation hearing in January, Sessions stated that he "did not have communications with the Russians".
It has since emerged that Sessions met with Kislyak in July and September 2016 as part of his role on the Senate Armed Services Committee.
Following the report, Sessions said in a statement on Wednesday (1 March) that he "never met with any Russian officials to discuss issues of the campaign. I have no idea what this allegation is about. It is false."
It is unclear whether Kislyak was involved, or even aware of Russian interference in the US presidential elections.