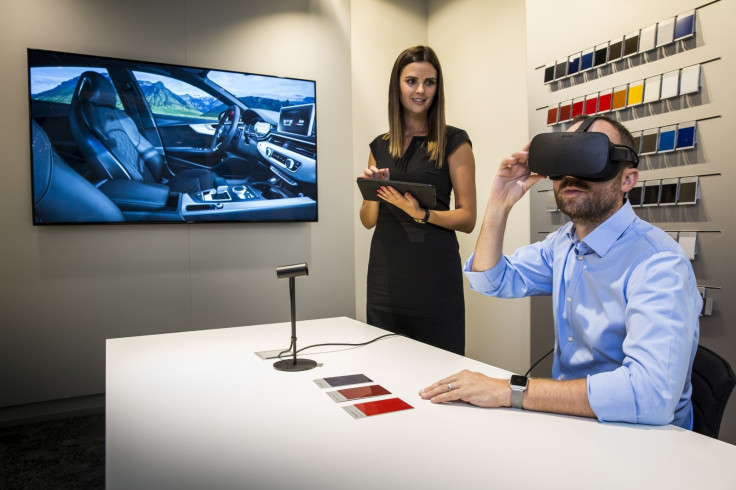 The days of the old-fashioned car brochure are numbered as Audi becomes the first automotive retailer to introduce virtual reality headsets for its customers to design, customise and preview their new car as if it were parked in the showroom.
For customers who struggle to decide between cloth and Alacantara or metallic matador red paint and pearlescent palace blue the VR headset is said to give a 360 true-to-life representation for several hundred million possible variants.
The VR experience is being introduced to showrooms in the UK, Germany and Spain in 'Customer Private Lounges' and claims to offer the realistic feeling of sitting inside the car complete with immersive lighting and sound effects.
Users can essentially configure almost any aspect of their potential new purchase and can get up-close and critical of their every decision – something that isn't possible with the paper options booklet or even using online software.
Audi developed a high-performance graphics engine in partnership with visualisation company ZeroLight to run on Oculist Rift headsets enabling customers to view the interior from any perspective at any simulated time of the day to help make purchase decisions easier. Customers simply ask an Audi salesperson to input the trim choice via a tablet and its instantly viewable.
The German car company is embracing technology at a rapid pace with VR not only being used to sell cars but also to design new models and to train staff at its factories.
"With this, we are taking the next step in our strategy to combine digital innovation with the strengths of the bricks-and-mortar dealership," said Nils Wollny, Head of Digital Business Strategy/Customer Experience at Audi.
The VR revolution is helping to change the retail landscape, making it easier for customers to experience potential purchases in far more detail than ever before. Other industries including real estate have adopted virtual reality to sell properties to customers – some even before they're even built – allowing them to walk around and view a house without having to actually visit.
One model Audi customers might be eyeing up using the VR headset is the new A8, which was unveiled in July 2017. The £80,000 'living room on wheels' is one of the most technologically advanced cars and the first production vehicle to offer Level 3 autonomous driving where it will take full control from the driver at speeds of up to 37mph.
This means drivers can take advantage of the AI autopilot which will accelerate, steer and brake to catch up on work, legally watch TV or sit back and enjoy the view (of perplexed road users, probably).