Audi is eyeing up Tesla and Jaguar with its latest all-electric concept car, the E-tron Sportback.
Revealed at the Shanghai motor show, the concept car is a mid-size, four-seat sport utility vehicle (SUV) which produces 500 horsepower from three electric motors, two powering the rear wheels and one powering the front.
The car's size suggests it will be pitched against the Tesla Model X and Jaguar I-Pace – but only once the car makes the jump from motor show concept to showroom production car, a move Audi hopes to pull off in 2019.
Audi says the car can accelerate from zero to 62mph (100mk/h) in 4.5 seconds, some way behind the most expensive version of the Model X (2.9 seconds), but comfortably on par with what we expect from the I-Pace when Jaguar puts its first electric car on sale in 2018.
The E-tron Sportback uses the single front motor most of the time, only relying on the rear two motors when extra torque or grip is needed in high speed or slippery conditions. With two motors on the rear axle, power can be split between the two rear wheels however the car's computer deems fit. All three motors can recover energy back into the battery when coasting or braking.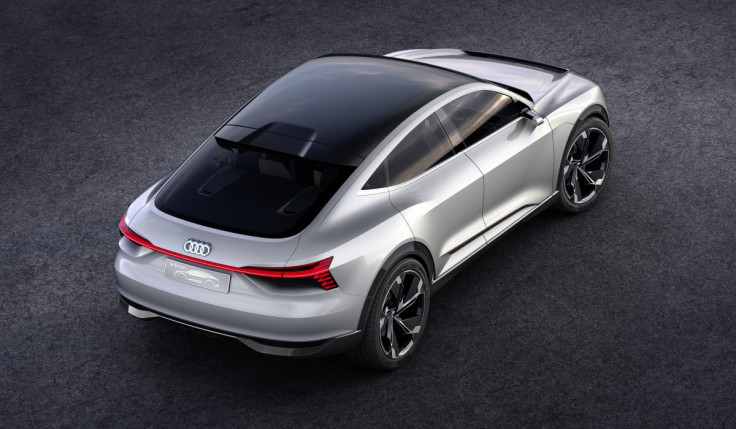 Speaking of the battery, Audi says the concept car is fitted with a 95kWh pack, 5% smaller than the largest used by Tesla. But given production is still two years away, this (and the other stats produced by Audi so far) could change before the Sportback goes on sale. Charging speed is capped to 50kWh for now, but by 2019 this should be upped to 150kWh, meaning an 80% charge will take around 30 minutes.
Audi claims range will be 311 miles, although as with all electric cars this will vary greatly depending on how it is driven. Another trait shared with other electric cars is the Sportback's battery pack being placed low down to improve handling; the car is claimed to weigh 2,000kg and makes use of carbon fibre and aluminium to keep that figure as low as possible.
Inside, the dashboard and centre console include three large computer screens showing off a next-generation version of the Virtual Cockpit system Audi uses today. Similar to the Range Rover Velar, the centre console has a traditional touch screen up top, complimented by a panel of touch-sensitive climate controls below.
Audi is yet to announce a price for the Sportback, but it is expected to cost in the region of £60,000.