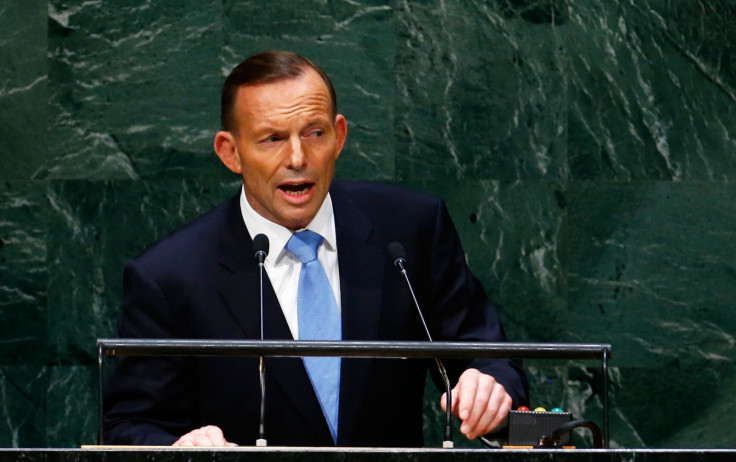 Australia plans to expand its military campaign against Islamic State (Isis) targets besides accepting an additional 12,000 Syrian refugees over and above its existing humanitarian intake of 13,750. Prime Minister Tony Abbott at a press conference on Wednesday said the country would join US-led air strikes on militants in Syria "within a week."
Abbott said, "...it was time to defeat IS at its source in Syria. We cannot defeat Daesh in Iraq unless we defeat Daesh in Syria. I emphasise that our aircraft will be targeting IS, not the Assad regime, evil though it is." He also spoke about the refugee situation.
"Australia will re-settle an additional 12,000 refugees from the Syria/Iraq conflict. There are persecuted minorities that are Muslim, there are persecuted minorities that are non-Muslim, and our focus is on the persecuted minorities who have been displaced and are very unlikely ever to be able to go back to their original homes," he said. He also confirmed that the refugees would be completely resettled in Australia.
"Our focus for these new, 12,000 resettlement places will be those most in need of permanent protection... women, children and families from persecuted minorities who have sought temporary refuge in Jordan, Lebanon and Turkey... the most vulnerable of all," Abbott said. He added that necessary background checks would be initiated and the asylum-seekers would be resettled "as quickly as possible".
On 7 September, Abbott had said he would only increase a certain percentage in the intake of Syrian refugees from the existing quota of 13,750. However, international pressure appears to have forced the Australian government to do more. Australia also said it would give A$30m (£13.7m) to aid agencies in the Middle East.
More about Syrian refugees