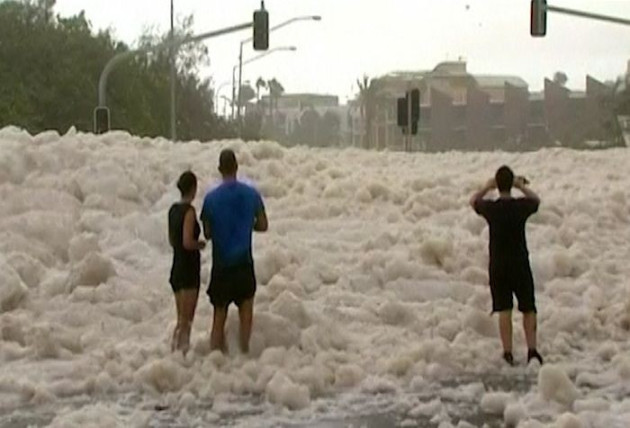 Residents of the Australian town of Mooloolaba found the streets covered in tons of foam after severe weather in the Pacific Ocean whipped up the substance off the coast of southeast Queensland.
In what appears at first glance a scene from a Hollywood disaster movie, whole swathes of the town can be seen blanketed in fluffy foam over ten feet high. But locals were quick to see the bright side of the weather, taking pictures and frolicking in the foam.
The freak weather has led to emergency services telling residents not to travel unless absolutely necessary. One onlooker captured footage of a car bursting out from underneath the foam right in front of two police officers. The two men jump out of the way just in time to miss the vehicle, which was completely submerged under the thick foam.
The ocean foam is formed when turbulent waves force pockets of air into the water and produce the frothy substance.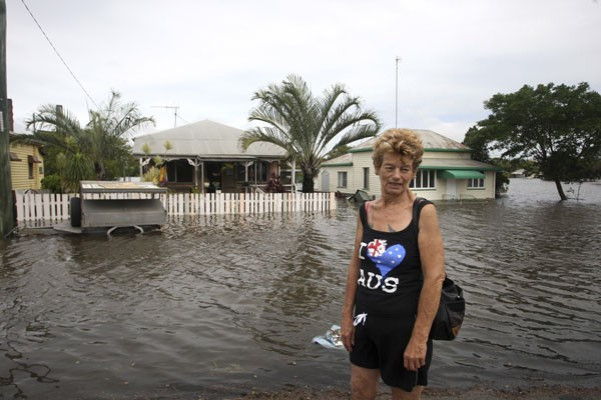 Heavy Flooding in Queensland and New South Wales
The northeast of Australia has been afflicted by severe weather over the past few days, as the remnants of ex-Tropical Cyclone Oswald have led to stormy weather off the coast, and heavy rainfall that has in turn prompted flash flooding in some areas. Three people are so far confirmed dead, and many more are missing as the storm cloud travels across eastern Australia.
Australian Prime Minister Julia Gillard offered her condolences to the families of the victims, and promised federal government support as required.
Speaking of the disasters Ms Gillard noted, "We are being challenged by nature.
"Across Queensland the wild weather has broken a lot of hearts. It's a very tough period."
More than 250,000 homes and businesses in south-east Queensland are without power, with more than 7,000 people cut off by floodwaters on the north coast of New South Wales. Helicopter crews are trying to reach hundreds of people currently trapped by rising floodwaters in the coastal town of Bundaberg. The storm is expected to continue travelling southwards, reaching as far as Sydney.
Emergency services have rescued numerous people stranded by the deluge over recent days. On 25 January, ABC news released dramatic footage of a 14-year-old boy who was rescued from fast-moving floodwaters, after surging muddy waters rushed around him near the Queensland town of Rockhampton.
The Sunshine State suffered its previous natural disaster as recently as January 2011, where at least 38 people were killed and 200,000 people were affected after severe flooding across the north-east of Australia.