Australian Foreign Minister Julie Bishop on Thursday (16 March) expressed her country's opposition to large scale reclamation and construction by China in the South China Sea islands. She feared the tensions over territorial disputes would lead to a conflict in the region.
Bishop's comments come a day after China is reported to have begun new construction work in the Paracels group to shore up its military reach across the hotly contested waterway, making clear its ambition to strengthen its network of reefs and islets.
"Australia opposes the scale of reclamation and reconstruction that has occurred and certainly we do not support militarisation by any party of the islands and the other features in the South China Sea because it would raise tensions, it would raise the prospect of conflict," Bishop said.
Speaking at a forum of the ADR Institute for Strategic and International Studies in Manila, the Philippines, Bishop called for a rules-based international order to ensure peace and stability in the region. "We should all advocate for its preservation and be prepared to defend it, even fight for it, should that be necessary," she said,.
The foreign minister also urged China and the 10-member Association of Southeast Asian Nations (Asean) to push forward the ongoing discussions to complete the framework of the South China Sea code of conduct at the earliest.
"We believe that Asean should drive for an enforceable code of conduct. I would urge Asean under the Philippines' leadership to go further and conclude a code of conduct as soon as possible," Bishop said.
She suggested that the 12 July verdict by the Permanent Court of Arbitration could be taken as the basis for the set of rules that are to be followed by the warring parties to avoid conflict in the international waterway.
The tribunal rejected China's sweeping claims in the disputed water and ruled in favour of the Philippines, which brought the case to The Hague. It ruled that Beijing had no legal basis and that it violated the rights of Filipino fishermen at Scarborough Shoal, the territory which China seized in 2012 after a dangerous standoff with the Philippines.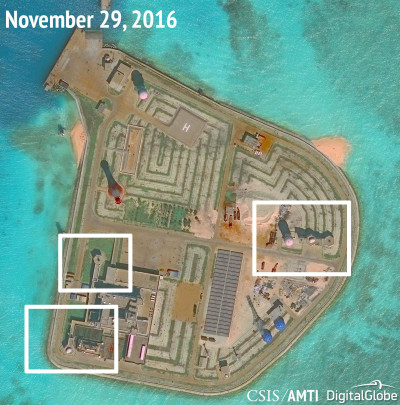 China has refused to accept the tribunal ruling and says it has historical rights in the waterway.
Australia has no claim of its own in the South China Sea, but it has been insisting that its ships have a right to pass through international waters. It has, so far, maintained a neutral stand in the territorial and maritime dispute.