US Secretary of State Rex Tillerson has said diplomatic and other efforts by his country over the past two decades have failed in getting North Korea to denuclearise as he called for a "new approach" to stop the escalating threats from the reclusive state.
Tillerson, who has embarked on his first official visit to Asia, held a news conference on Thursday (16 March) after meeting Japanese Foreign Minister Fumio Kishida in Tokyo. Japan is the first stop in his trip, and he took questions from the media for the first time since taking office earlier in February.
"So we have 20 years of failed approach. That includes a period where the United States has provided $1.35bn in assistance to North Korea as an encouragement to take a different pathway," Tillerson said. "In the face of this ever-escalating threat, it is clear that a different approach is required. Part of the purpose of my visit to the region is to exchange views on a new approach."
However, he did not elaborate as to how President Donald Trump's administration was planning to solve the issue or what the new approach would be, Reuters noted.
Tensions are running high on the Korean peninsula because of North Korea's repeated missile launches, which Tillerson describes as "dangerous and unlawful". But he called on Pyongyang to abandon its nuclear and missile programmes without fearing the US.
"North Korea and its people need not fear the United States or their neighbours in the region who seek only to live in peace with North Korea. With this in mind, the United States calls on North Korea to abandon its nuclear and ballistic missile programmes and refrain from any further provocation," AP quoted the secretary of state as saying.
Tilerson is also meeting Japanese Prime Minister Shinzo Abe before travelling to South Korea on Friday (17 March) and then to China on Saturday. The former CEO of ExxonMobile, who has no prior experience as a diplomat, said he intends to get inputs from other governments in the region through his trips.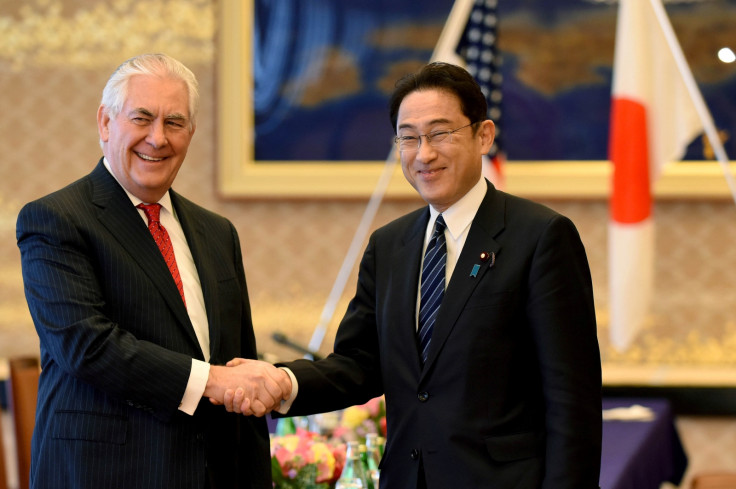 When asked how he plans to get China to agree with the US in resolving the North Korea issue, Tillerson said: "We look to China to fulfil its obligations and fully implement the sanctions called for" in the UN Security Council resolution.
According to AP, Tillerson, as well as Kishida, urged Beijing to use its economic powers to convince Pyongyang to stop its nuclear ambitions.
Washington has been stepping up its security cooperation with South Korea by conducting large-scale joint military drills in the face of threats emerging from the North.